Clinging to a Counterfeit Cross
Grk/Heb Fonts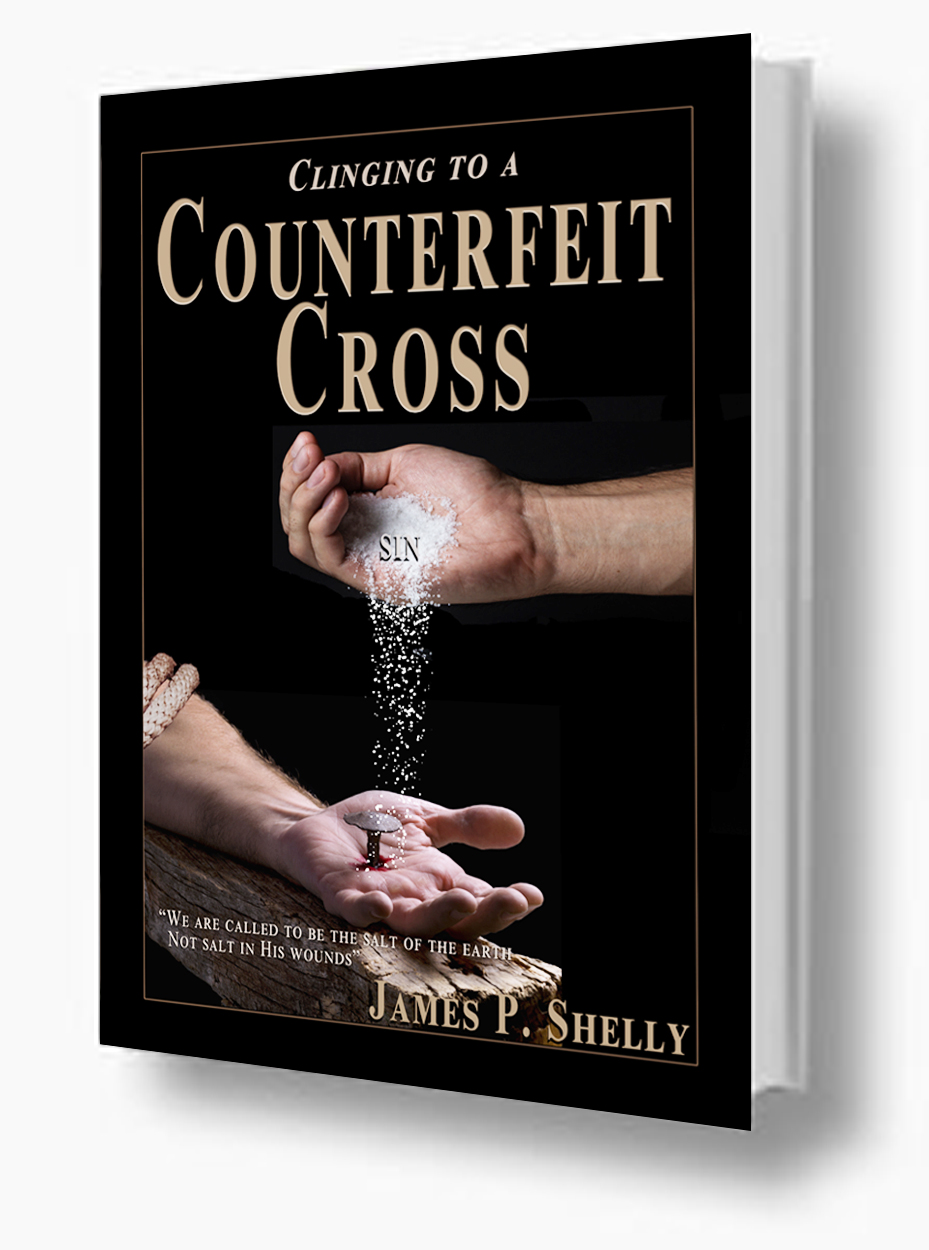 by James P. Shelly
CHAPTER ELEVEN
Righteousness vs. Self-righteousness
Scripture makes an important distinction between a righteous behavior that originates from the flesh resulting in self-righteousness and that which originates from the Spirit resulting in a God honoring righteousness. Self is involved in the practice of both; however, the determining factor as to whether or not the righteousness is acceptable to God is dependent on the source from which it is derived.
In the Church, we have been preconditioned to classify any such perception of righteousness in self as self-righteousness. When in reality, Scripture necessitates that we come to this perception when evaluating our own spiritual condition. Again, when Paul says in 1 Corinthians 6:9, "Do you not know that the unrighteous will not inherit the kingdom of God," he assumes that this was a well established, fundamental truth of the Christian faith; that those characterized by unrighteous behavior would not be the recipients of the kingdom of God. He says, "Do you not know?" Are you ignorant of this central truth? That the unclean, the lewd, the hateful, the contentious, the jealous, those who exhibit outbursts of wrath, the selfishly ambitious, those who sow discord, heretics, enviers, drunkards, revilers, homosexuals, sodomites, thieves, the covetous, extortioners, the cowardly, unbelieving, abominable, sexually immoral, sorcerers, idolaters, and all liars shall have their part in the lake which burns with fire and brimstone, which is the second death (1 Cor. 6:9, 10; Gal. 5:19-21; Rev. 21:8)? Paul is certainly not speaking of a positional righteousness; a right relationship with God by faith, for the context in which he speaks is one of right or wrong behavior. If the unrighteous do not inherit the kingdom of God, who then will? Is it not the righteous? We simply have no other option. If this verse is to have its intended effect on our hearts, we must come to one of two conclusions. We either conclude that we are unrighteous, walking in the flesh, and thus recognize our need for repentance and grace if we are to enter the kingdom of God, or, that we are righteous, walking in the Spirit, and thereby confident that we shall enter the kingdom of God. Simply put, this verse requires every professing believer to see himself as righteous and saved, or unrighteous and damned.
There are many such passages in Scripture whereby we must evaluate our spiritual condition according to how we live, whether in godliness, humility, good works, holiness, righteous acts, etc. However, self-righteousness plays no part in coming to an honest conclusion as to whether or not our salvation is secure. For we do not base our evaluation on our own works but rather on the evidence that Christ is at work in us. We must determine if our hearts have truly been changed by the power of God, bearing the fruit of that change, i.e., the fruit of the Spirit. Are we able to say with Paul, "It is no longer I who live (the old man producing a self-righteousness) but Christ who lives in me (the new man producing a righteousness from the heart)? (Gal. 2:20).
David was a man after God's own heart and yet he says of himself in Psalm 7:8,
"The LORD shall judge the peoples; Judge me, O LORD, according to my righteousness, and according to my integrity within me."
And in Psalm 18:20-24,
"The LORD rewarded me according to my righteousness; according to the cleanness of my hands He has recompensed me. For I have kept the ways of the LORD, and have not wickedly departed from my God. For all His judgments were before me, and I did not put away His statutes from me. I was also blameless before Him, and I kept myself from my iniquity. Therefore the LORD has recompensed me according to my righteousness, according to the cleanness of my hands in His sight." (Psalm 18:20-24).
Job says in Job 27:6,
"My righteousness I hold fast, and will not let it go; My heart shall not reproach me as long as I live."
God Himself says of Job,
"Then the LORD said to Satan, 'Have you considered My servant Job, that there is none like him on the earth, a blameless and upright man, one who fears God and shuns evil?'"(Job 1:8) [Italics added in all the above]
Was Job a proud legalist? Was David being self-righteous? No, they were very much aware that the source of their righteousness was not of themselves, but of divine origin. David says in Psalm 4:1, "Hear me when I call, O God of my righteousness!" In Psalms 16:2 he says, "I said to the Lord, 'You are my Lord; apart from you I have no good thing.'" And in Psalm 19:12-13, "Who can understand his errors? Cleanse me from secret faults. Keep back Your servant also from presumptuous sins; let them not have dominion over me. Then I shall be blameless, and I shall be innocent of great transgression." Here, David expresses his complete dependency on God for any hope of righteousness in himself. He knows that he shall be blameless and his sin shall not have dominion over him only in answer to his prayer to God.
So then, self-righteousness is just that, a righteousness that originates from and whose source is self. It is a righteousness that is self-centered, ugly, boastful, arrogant, and repugnant to God. It is the result of sinful pride and carnality, causing one to be puffed up on behalf of one against the other (1 Cor. 4:6). However, in contrast, the righteousness that David and Job speak of, in reference to themselves, is just the opposite. It is God-centered, attractive, void of pride and boasting, humble, spiritual, and wholly honoring to God. Its focus is entirely on God with none on self. If the flesh is the source of the righteousness, it produces pride. If the Spirit is the source, it produces humility. For in both cases, the source of the righteousness rightly deserves the glory, for it is solely responsible for what it produces. Therefore, in the practice of a righteousness that originates from self, man is glorified; in the practice of a righteousness that originates from the Spirit, God is glorified.
Paul says, "Examine yourselves as to whether you are in the faith. Test yourselves. Do you not know yourselves, that Jesus Christ is in you?—unless indeed you are disqualified" (2 Cor. 13:5). Again, Paul speaks of a truth that he expects believers to be aware of. Do you not know that Christ is in you, working in you, transforming you; are you a new creation in Christ; have old things truly passed away, have all things become new (2 Cor. 5:17)? Have your aims, goals, aspirations, likes and dislikes, hopes and desires, been turned in a new direction? Is God now the object of your desire? Are you seeking your pleasures at the right hand of the Father? For, according to Scripture, these alone have obtained to salvation (Titus 3:3, 2 Cor. 5:9, 1 Cor. 6:11, Ps. 16:10-11). "And if Christ is in you, the body is dead because of sin, but the Spirit is life because of righteousness" (Rom. 8:10). "But put on the Lord Jesus Christ, and make no provision for the flesh, to fulfill its lusts" (Rom. 13:14). If the Spirit of Christ is in us, we have our "fruit to holiness, and the end, everlasting life" (Rom. 6:22). For,
"His divine power has given to us all things that pertain to life and godliness, through the knowledge of Him who called us by glory and virtue, by which have been given to us exceedingly great and precious promises, that through these you may be partakers of the divine nature, having escaped the corruption that is in the world through lust" (2 Pet. 1:3-5).
Scripture, therefore, necessitates that we make a distinction between self-righteousness and that divine work of righteousness imparted by God. A self-righteousness characterized by pride, or a true righteousness characterized by humility.
When Scripture exhorts us to be humble, are we being self-righteous if, after thoughtful self-examination, we conclude that we are? If self-righteousness is pride, and concluding that we are humble is self-righteous, would it not make it impossible for one to evaluate whether or not they are humble? Would it not make it equally impossible to determine whether we were obedient to any of the commands in Scripture? Yet, this we must constantly do. Therefore, when we see an exhortation in Scripture and we believe in our hearts that we are obedient to that exhortation that in itself is not self-righteousness, but rather it is simply coming to a necessary conclusion. It is only when we credit ourselves for that obedience rather than giving all the credit and glory to God that it becomes self-righteous. If we credit ourselves for our obedience, we think we have merited God's favor and He is then indebted to us. If we credit God for our obedience, we recognize it is by grace, meriting nothing, knowing we are entirely indebted to Him.
The righteous are humble in that they understand that these various fruits of the Spirit are simply the consequence of abiding in Christ. He is the Source, and we know that apart from Him we can do nothing (John 15:5). How can self be boastful for something that did not originate from self? That would be equivalent to boasting in that we have the capacity to walk or talk.
"Shall the ax boast itself against him who chops with it? Or shall the saw exalt itself against him who saws with it? As if a rod could wield itself against those who lift it up, or as if a staff could lift up, as if it were not wood!" (Isaiah 10:15)
"For who makes you differ from another? And what do you have that you did not receive? Now if you did indeed receive it, why do you boast as if you had not received it?" (1 Cor. 4:7)
"For if I preach the gospel, I have nothing to boast of, for necessity is laid upon me; yes, woe is me if I do not preach the gospel!" (1 Cor. 9:16).
"...remember that you do not support the root, but the root supports you" (Rom. 11:18).
"My soul shall make its boast in the LORD; the humble shall hear of it and be glad. Oh, magnify the LORD with me, and let us exalt His name together" (Psalm 34:2, 3). [Italics added in all the above]
But does Scripture not say that no one is good? When Jesus said, "No one is good but One, that is, God" (Matt. 19:17), He was speaking in the absolute sense of perfect goodness. If this were not so then He would be contradicting numerous other passages of Scripture. Christ speaks of a "good man" in Luke 6:45,
"A good man out of the good treasure of his heart brings forth good; and an evil man out of the evil treasure of his heart brings forth evil..."
When He separates the sheep from the goats, He says,
"Well done, good and faithful servant" (Matt. 25:21).
And in other places,
"The steps of a good man are ordered by the Lord, And He delights in his way." (Psalm 37:23)
"A good man deals graciously and lends; He will guide his affairs with discretion." (Psalm 112:5)
"A good man obtains favor from the Lord, But a man of wicked intentions He will condemn."(Prov. 12:2)
"A good man leaves an inheritance to his children's children, but the wealth of the sinner is stored up for the righteous."(Prov. 13:22)
"The backslider in heart will be filled with his own ways, but a good man will be satisfied from above." (Prov. 14:14)
"For he was a good man, full of the Holy Spirit and of faith" (Acts 11:24).
"Do good, O LORD, to those who are good, and to those who are upright in their hearts" (Ps. 125:4) [italics added in all the above].
We see then, that scripture often speaks of "good men." We understand as well that in many of these passages the term "good man" is in reference to good behavior as opposed to wicked or sinful behavior. These were considered good men because, by God's grace, they were men of good character, "full of the Holy Spirit and of faith," living according to God's will and purpose. They were not perfect nor were their works perfect, but Scripture calls them good nonetheless.
It says in 1 Kings 15:5, "David did what was right in the eyes of the LORD, and had not turned aside from anything that He commanded him all the days of his life, except in the matter of Uriah the Hittite." We know that the matter of Uriah the Hittite, David's sin with Bathsheba, was not his only sin, but one that particularly grieved God. For it was done, not in ignorance or weakness of the flesh, joined with confession and repentance, but with a casual disregard for the blessings of God toward him and a negligent lapse in his regard for the law. We discover then that those considered as righteous, according to Scripture, are not perfect men, but those characterized by doing what is right. Psalm 15:1-4 speaks of those who shall dwell in His presence,
"Lord, who may abide in Your tabernacle? Who may dwell in Your holy hill? He who walks uprightly, and works righteousness, and speaks the truth in his heart; He who does not backbite with his tongue, nor does evil to his neighbor, nor does he take up a reproach against his friend; in whose eyes a vile person is despised, but he honors those who fear the LORD"
Does Paul not say in Romans 3:9 that, "There is none righteous, no, not one"? Paul is quoting from Psalm 53. When we look at the entire passage, we find that Paul is referring to those outside of Christ.
"There is none righteous, no, not one; there is none who understands; There is none who seeks after God. They have all turned aside; they have together become unprofitable; there is none who does good, no, not one. Their throat is an open tomb; with their tongues they have practiced deceit; the poison of asps is under their lips; whose mouth is full of cursing and bitterness. Their feet are swift to shed blood; destruction and misery are in their ways; and the way of peace they have not known. There is no fear of God before their eyes."
This is certainly not a representation of the believer in Christ. For nearly every word is the antithesis of what we read in Scripture to describe the Christian's character. The Psalm that Paul quotes begins this passage with the statement, "The fool has said in his heart, 'There is no God.' They are corrupt, and have done abominable iniquity; There is none who does good" etc.(Psalm 53:1). The "none who does good" is one and the same as those who say in their heart "There is no God" Furthermore, it would contradict those same passages of Scripture listed previously in reference to "good men" as well as numerous other passages of Scripture. Righteous men in contrast to unrighteous men are a continuous theme throughout Scripture:
"Riches do not profit in the day of wrath, but righteousness delivers from death. The righteousness of the blameless will direct his way aright, but the wicked will fall by his own wickedness. The righteousness of the upright will deliver them, but the unfaithful will be caught by their lust" (Proverbs 11:4-6).
"The wicked man does deceptive work, but he who sows righteousness will have a sure reward. As righteousness leads to life, so he who pursues evil pursues it to his own death. Those who are of a perverse heart are an abomination to the LORD, but the blameless in their ways are His delight. Though they join forces, the wicked will not go unpunished; But the posterity of the righteous will be delivered" (Proverbs 11:18-21).
"A righteous man hates lying, but a wicked man is loathsome and comes to shame. Righteousness guards him whose way is blameless, but wickedness overthrows the sinner" (Proverbs 13:5-6).
"You have shown great mercy to Your servant David my father, because he walked before You in truth, in righteousness, and in uprightness of heart with You" (1 Kings 3:6).
"My defense is of God, Who saves the upright in heart. God is a just judge, and God is angry with the wicked every day" (Ps. 7:10-11).
"Be glad in the LORD and rejoice, you righteous; and shout for joy, all you upright in heart!" (Ps. 32:11).
"The righteous shall be glad in the LORD, and trust in Him. And all the upright in heart shall glory" (Ps. 64:10).
"For the LORD God is a sun and shield; the LORD will give grace and glory; no good thing will He withhold From those who walk uprightly" (Ps. 84:11).
"Light is sown for the righteous, and gladness for the upright in heart" (Ps. 97:11).
"Surely the righteous shall give thanks to Your name; the upright shall dwell in Your presence" (Ps. 140:13).
"For the upright will dwell in the land, And the blameless will remain in it" (Prov. 2:21).
"The righteousness of the upright will deliver them, But the unfaithful will be caught by their lust" (Prov. 11:6).
"The wicked shall be a ransom for the righteous, And the unfaithful for the upright" (Prov. 21:18).
"An unjust man is an abomination to the righteous, And he who is upright in the way is an abomination to the wicked" (Prov. 29:27).
"Who among us shall dwell with the devouring fire? Who among us shall dwell with everlasting burnings? He who walks righteously and speaks uprightly, he who despises the gain of oppressions, who gestures with his hands, refusing bribes, who stops his ears from hearing of bloodshed, and shuts his eyes from seeing evil" (Isa. 33:14-16).
"...a certain priest named Zacharias, of the division of Abijah. His wife was of the daughters of Aaron, and her name was Elizabeth. And they were both righteous before God, walking in all the commandments and ordinances of the Lord blameless" (Luke 1:5)
[Italics added in all the above].
We discover again that the term "righteous" in these passages pertains, not initially to a right relationship with God, but to right behavior. They are not self-righteous men, nor are they perfect men, but they are those whose general tenor of life or walk is one of obedience to God. And although Scripture refers to them as "righteous" they all with one voice would react even as righteous Job when in the presence of the Holy and Majestic God, "I have heard of You by the hearing of the ear, but now my eye sees You. Therefore I abhor myself, and repent in dust and ashes" (Job 42:6) or as Isaiah, "Woe is me, for I am undone! Because I am a man of unclean lips, and I dwell in the midst of a people of unclean lips; For my eyes have seen the King, The LORD of hosts" (Isaiah 6:5).
In Isaiah 64:6 it says, "all our righteousnesses are like filthy rags"? Many have interpreted this passage in the sense that as believers even our best acts of righteousness, being tainted with sin, are as filthy rags. However, if we examine the context of this passage I think it will become clear to the reader that this is not Isaiah's meaning at all. The preceding verse, v. 5a, says, "You meet him who rejoices and does righteousness" and then in v. 6, "But we are all like an unclean thing, and all our righteousnesses are like filthy rags." We notice that the term righteousness in these verses is stated in two contrasting and distinct forms; a righteousness met with God's approval and a righteousness that is as "filthy rags"; The one being of divine origin and pleasing to God, the other originating from the flesh and displeasing to God. We then read in v. 5b, "Who remembers You in Your ways. You are indeed angry, for we have sinned—In these ways we continue; And we need to be saved." The filthy rags righteousness Isaiah is speaking of is that of apostate Israel as a nation, not of the true Israel of God, i.e., the redeemed remnant. The JFB Bible Commentary states,
But we are all as an unclean thing - legally unclean as a leper. True of Israel, everywhere now cut off by unbelief, and by God's judgments, from the congregation of the saints.
And all our righteousnesses is as filty rags - plural, 'uncleanness' extended to every particular act of theirs, even to their prayers and praises. True of the best doings of the unregenerate (Phil 3:6-8; Titus 1:15; Heb 11:6). 1
And in Barnes' Notes,
And all our righteousnesses. The plural form is used to denote the deeds which they had performed—meaning that pollution extended to every individual thing of the numerous acts which they had done. The sense is, that all their prayers, sacrifices, alms, and praises, were mingled with pollution, and were worthy only of deep detestation and abhorrence.2
If this were referring to the righteous acts of the saints, then we would have to conclude that every act of obedience that Christians lovingly do to please their Father are worthy of only deep detestation and abhorrence. If this were so then the words of our Lord "Well done good and faithful servant," would be more appropriately rendered, "Poorly done you filthy and detestable servant." Keil and Delitzsch say of this passage,
Doing right in all its manifold forms (tsedâqooth, like Isa 33:15, used elsewhere of the manifestations of divine righteousness), which once made Israel well-pleasing to God (Isa 1:21), has disappeared and become like a garment stained with menstruous discharge (cf., Ezek 36:17).3
The divine righteousness, which pleases God, had disappeared from among the people and what was left was a polluted self-righteousness that was detestable to God. They had not abandoned the God ordained, sacrifices, feasts, New Moons and Sabbaths, however, their hearts had grown cold toward God. What were, in time past, righteous acts faithfully performed with godly intentions, had now become an abomination to God, and all their so-called righteousnesses had become as filthy rags. Isaiah 66:3 gives us God's description of their self-professed righteousness:
"He who slaughters an ox is like one who kills a man; he who sacrifices a lamb, like one who breaks a dog's neck; he who presents a grain offering, like one who offers pig's blood; he who makes a memorial offering of frankincense, like one who blesses an idol. These have chosen their own ways, and their soul delights in their abominations."
Matthew Henry comments,
The sacrifice of the wicked is not only unacceptable, but it is an abomination to the Lord (Prov. 15:8); this is largely shown here, v. 3, 4. Observe, 1. How detestable their sacrifices were to God. The carnal Jews, after their return out of captivity, though they relapsed not to idolatry, grew very careless and loose in the service of God; they brought the torn, and the lame, and the sick for sacrifice (Mal 1:8, 13), and this made their services abominable to God; they had no regard to their sacrifices, and therefore how could they think God would have any regard to them? The unbelieving Jews, after the gospel was preached and in it notice given of the offering up of the great sacrifice, which put an end to all the ceremonial services, continued to offer sacrifices, as if the law of Moses had been still in force and could make the comers thereunto perfect: this was an abomination. He that kills an ox for his own table is welcome to do it; but he that now kills it, that thus kills it, for God's altar, is as if he slew a man; it is as great an offence to God as murder itself; he that does it does in effect set aside Christ's sacrifice, treads under foot the blood of the covenant, and makes himself accessory to the guilt of the body and blood of the Lord, setting up what Christ died to abolish. He that sacrifices a lamb, if it be a corrupt thing, and not the male in his flock, the best he has, if he thinks to put God off with any thing, he affronts him, instead of pleasing him; it is as if he cut off a dog's neck, a creature in the eye of the law so vile that, whereas an ass might be redeemed, the price of a dog was never to be brought into the treasury, Deut. 23:18. He that offers an oblation, a meat offering or drink-offering, is as if he thought to make atonement with swine's blood, a creature that must not be eaten nor touched, the broth of it was abominable (ch. 65:4), much more the blood of it. He that burns incense to God, and so puts contempt upon the incense of Christ's intercession, is as if he blessed an idol; it was as great an affront to God as if they had paid their devotions to a false god. Hypocrisy and profaneness are as provoking as idolatry.4
In other words, all their righteous acts were filthy in God's sight. God says at the beginning of Isaiah 1:11-15,
"I have had enough of burnt offerings of rams and the fat of fed cattle. I do not delight in the blood of bulls, or of lambs or goats. When you come to appear before Me, who has required this from your hand, To trample My courts? Bring no more futile sacrifices; Incense is an abomination to Me. The New Moons, the Sabbaths, and the calling of assemblies—I cannot endure iniquity and the sacred meeting. Your New Moons and your appointed feasts My soul hates; They are a trouble to Me, I am weary of bearing them. When you spread out your hands, I will hide My eyes from you; Even though you make many prayers, I will not hear. Your hands are full of blood."
Again, Matthew Henry comments,
The Vanity of Mere Ritual Obedience. What their wickedness was which made their sacrifices thus detestable. It was because they had chosen their own ways, the ways of their own wicked hearts, and not only their hands did, but their souls delighted in their abominations. They were vicious and immoral in their conversations, chose the way of sin rather than the way of God's commandments, and took pleasure in that which was provoking to God; this made their sacrifices so offensive to God, ch. 1:11-15. Those that pretend to honour God by a profession of religion, and yet live wicked lives, put an affront upon him, as if he were the patron of sin. And that which was an aggravation of their wickedness was that they persisted in it, notwithstanding the frequent calls given them to repent and reform; they turned a deaf ear to all the warnings of divine justice and all the offers of divine grace.5
And in Isaiah 58:3-5,
"In fact, in the day of your fast you find pleasure, and exploit all your laborers. Indeed you fast for strife and debate, and to strike with the fist of wickedness. You will not fast as you do this day, to make your voice heard on high. Is it a fast that I have chosen, a day for a man to afflict his soul? Is it to bow down his head like a bulrush, and to spread out sackcloth and ashes? Would you call this a fast, and an acceptable day to the LORD?"
Keil and Delitzsch write,
Whilst the people on the fast-day are carrying on their worldly, selfish, everyday business, the fasting is perverted from a means of divine worship and absorption in the spiritual character of the day to the most thoroughly selfish purposes: it is supposed to be of some worth and to merit some reward. This work-holy delusion, behind which self-righteousness and unrighteousness were concealed, is met thus by Jehovah through His prophet: Vv. 5-7. …The true worship, which consists in works of merciful love to one's brethren, and its great promises are here placed in contrast with the false worship just described. …Vv. 6 and 7 affirm that the fasting which is pleasant to Jehovah consists in something very different from this, namely, in releasing the oppressed, and in kindness to the helpless; not in abstinence from eating as such, but in sympathetic acts of that self-denying love, which gives up bread or any other possession for the sake of doing good to the needy.6
Yet in all this, their attitude was one of self-righteousness saying, "Keep to yourself, do not come near me, for I am holier than you!" which was smoke in the nostrils of God. (Isa. 65:5)
We see then that the "filthy rags righteousness" Isaiah speaks of, is a righteousness of the letter and not of the Spirit. It is a hypocritical righteousness performed in and by the flesh, rather than a divine righteousness performed in and by the Spirit. The best example of a "filthy rags" righteousness is that of the scribes and Pharisees. It is the righteousness of those "who cleanse the outside of the cup and dish, but inside they are full of extortion and self-indulgence." (Matt. 23:25). Still performing what they thought to be "righteous deeds" in their own sight, but they were as filthy rags in the sight of God.
When we read passages such as Matthew 7:17, "Even so, every good tree bears good fruit, but a bad tree bears bad fruit," are we to conclude that the "good fruit" is actually filthy fruit. In passages such as 1 John 3:22, "And whatever we ask we receive from Him, because we keep His commandments and do those things that are pleasing in His sight." Are we to understand this keeping of the commandments as filthy in the sight of God? Are we to think that God is pleased with filthy rags? When Paul says in 2 Cor. 5:9, "Therefore we make it our aim, whether present or absent, to be well pleasing to Him." Is what is well pleasing to Him a righteousness that is as filthy rags? When we read, "For it is God who works in you both to will and to do for His good pleasure."(Phil. 2:13) Are we to believe that God's good pleasure is to produce in us filthy rags? Calling the fruit of this mighty work of God "filthy" does an injustice to His glorious grace and power in salvation. It is dishonoring to the work of the Holy Spirit who dwells in all who are His. Furthermore, it renders as unintelligible numerous passages of Scripture, such as Revelation 22:11,
"He who is unjust, let him be unjust still; he who is filthy, let him be filthy still; he who is righteous, let him be righteous still; he who is holy, let him be holy still."
When Jesus said, "For I say to you, that unless your righteousness exceeds the righteousness of the scribes and Pharisees, you will by no means enter the kingdom of heaven," He was not insinuating that the scribes and Pharisees were in fact righteous. What He is saying is that unless our righteousness exceeds a mere outward show, unless we exhibit a true and living righteousness, a righteousness of the heart towards God, a righteousness that is not filthy, but pleasing to Him, we will by no means enter the kingdom of heaven. This has nothing to do with self-righteousness or legalism. It does however, have everything do to with the splendor, power, and majesty of God's magnificent grace.
Comments
(7)
Topic
:
Righteousness vs Self-Righteousness
Bob Wagnon
says...
Holiness is of The Lord
AMEN,
The only way to qualify is through the righteousness that comes by faith! Masses believe that is all you have to do is claim "a relationship" and your good. It all sounds a little like a clubhouse mentality! "be holly because I am holy" The Law is like a rear-a-view mirror, if used correctly it will help but if you stare in it to long you will crash!
8th December 2014 1:46pm
lyonga walterson L.
says...
it was a good one
thanks for the good teachings
9th July 2015 3:31am
mike
says...
I Seen in this article was job a proud legalistic the answer is yes 3 until the end of the book god does not rebuke elihu but jobs friends
22nd January 2016 3:14pm
James - webmaster
says...
It says in Job 1:1, "There was a man in the land of Uz, whose name was Job; and that man was blameless and upright, and one who feared God and shunned evil." This is God's own description of Job. If he were a "proud legalist" God would have never described Job in this way. Job was a righteous man who walked with God. Was he perfect? No. But he was among the most righteous men that ever lived. Again, in v. 8, God says to Satan, "Have you considered My servant Job, that there is none like him on the earth, a blameless and upright man, one who fears God and shuns evil?" According to Scripture a blameless and upright man would be the antithesis of a legalist.
22nd January 2016 4:05pm
Kalema George
says...
I am requesting for a summarized work about righteousness
THANKS
3rd June 2016 6:01am
Michael Young
says...
I think you are confusing un-righteousness with self-righteousness.
23rd July 2016 1:09pm
James - webmaster
says...
Not at all. Un-righteousness is outwardly immoral behavior (1 Cor. 6:9-10); self-righteousness is outwardly moral behavior with immoral motives. As Jesus said to the self-righteous Pharisees "Woe to you, scribes and Pharisees, hypocrites! For you cleanse the outside of the cup and dish, but inside they are full of extortion and self-indulgence." (Matt 23:25). In other words, the Pharisees appeared outwardly moral but they remained inwardly corrupt. Self-righteousness is a hypocritical righteousness; a "filthy rags" righteousness (Isa. 64:6). True righteousness (Isa. 64:5) is a righteousness which is obtained, not by a mere moral reformation, simply cleaning up our outward behavior through our own self-effort, but by the inward cleansing of the heart by God's grace (Ezek. 36:26). The solution to self-righteousness is found in Matt 23:26 when Jesus says, "Blind Pharisee, first cleanse the inside of the cup and dish [the heart], that the outside of them may be clean also
... Read More
23rd July 2016 3:31pm
RSS Alerts
Add Comment
Powered by Commentics
Footnotes
1. Jamieson, Fausset, and Brown Commentary, Isaiah 64:6 (PC Study Bible, Electronic Database by Biblesoft, Inc. )2006
2. Barnes' Notes, Isaiah 64:6 (PC Study Bible, Electronic Database by Biblesoft, Inc. )2006
3. Keil and Delitzsch Commentary on the Old Testament: New Updated Edition, Isaiah 64:4-6, (Hendrickson Publishers, Inc.)1996
4. Matthew Henry's Commentary on the Whole Bible, Isaiah 66:1-4,(PC Study Bible Formatted Electronic Database by Biblesoft, Inc.)2006
5. Matthew Henry's Commentary on the Whole Bible, Isaiah 66:1-4,(PC Study Bible Formatted Electronic Database by Biblesoft, Inc.) 2006
6. Keil and Delitzsch Commentary on the Old Testament: New Updated Edition, Isaiah 58:5-7, (Hendrickson Publishers, Inc.)1996
---