Mere Christianity
Grk/Heb Fonts

PDF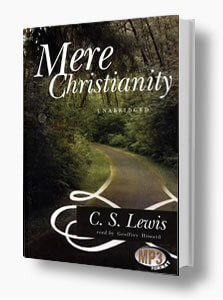 by C. S. Lewis
Born in Ireland in 1898, C. S. Lewis was educated at Malvern College for a year and then privately. He gained a triple first at Oxford and was a Fellow and Tutor at Magdalen College 1925-54. In 1954 he became Professor of Mediaeval and Renaissance Literature at Cambridge. He was an outstanding and popular lecturer and had a lasting influence on his pupils.
C. S. Lewis was for many years an atheist, and described his conversion in Surprised by Joy: 'In the Trinity term of 1929 I gave in, and admitted that God was God ... perhaps the most dejected and reluctant convert in all England.' It was this experience that helped him to understand not only apathy but active unwillingness to accept religion, and, as a Christian writer, gifted with an exceptionally brilliant and logical mind and a lucid, lively style, he was without peer.
In 1943 Great Britain, when hope and the moral fabric of society were threatened by the relentless inhumanity of global war, an Oxford don was invited to give a series of radio lectures addressing the central issues of Christianity. Over half a century after the original lectures, the topic retains it urgency. Expanded into book form, Mere Christianity never flinches as it sets out a rational basis for Christianity and builds an edifice of compassionate morality atop this foundation. As Mr. Lewis clearly demonstrates, Christianity is not a religion of flitting angels and blind faith, but of free will, an innate sense of justice and the grace of God.
TABLE OF CONTENTS

---
---

Comments (38)
Topic: Mere Christianity by C. S. Lewis
Sort
Thoughtful
says...
CS LewisI find CS Lewis interesting, but outdated. For ex.: his references to indigenous people as "savages", the notion that Buddhists and other non-Christians "may still get into heaven" (paraphrased)etc. He is a good example of pre WWII Anglican ideas. His audience was the English upper class/Protestant aristocracy. Not really relevant for people today.I always thought it was really telling that no where in "Mere Christianity" does he talk about the genocide that was going on as he wrote. And yes, there is evidence that folks knew this was going on - in 1943 the NYT wrote and article about Nazis killing Jews and Kristen aught occurred in the late 1930's. So, I do not recommend this book as a proof for the existence of God. There are much better sources for that.
8th December 2014 12:43pm
Sum
says...
"The theory that thought is merely a movement in the brain is, in my opinion, nonsense; for if so, that theory itself would be merely a movement, an event among atoms, which may have speed and direction but of which it would be meaningless to use the words 'true' or 'false'." - C.S. Lewis
8th December 2014 12:44pm
Brad Jent
says...
I'm deep into the Third book, and I have been absolutely enthralled! When I am through, I already have a few friends in mind to share this fantastic resource with! I've heard many a sermon and many a interpretation...but I have never heard and understood, as I have with "Mere Christianity"!
8th December 2014 12:45pm
Ross Kirkbride
says...
re: Kieran 'Again... love comes from the brain. It is possible for one person to fall in love and not the other. I love my parents not because love is some ghostly vapor floating from them to me. For all I know they may not be my parents at all. Love is an idea and a chemical reaction to that idea, a feeling based again on badly/beautifully TRANSLATED data with influence from genetics and previous idea formation.' Having come to the conclusion that love is simply a 'chemical reaction', how has this affected your love life? Do you accept it at face value or are you true to your reasoning? The implication, if you'll indulge me, is that love is a by-product of evolution, that it is an idea and pattern of behavior that is a useful reaction and interpretation of data, but it has no more meaning or truth than that. To live out this 'belief system' sincerely and authentically would be an interesting exercise not yet carried out by any atheist I know of. All
... Read More
8th December 2014 12:46pm
Lmom
says...
I think it is a bit humorous the arguments above about the brain/morality. Forgetting the main thing, God is a Spirit and so are we. Our bodies/brains (physical) are temporary. The real issue is in the Spirit, which is a higher 'law'.
8th December 2014 12:47pm
Gopher41
says...
"Green Book" educationSome of the comments I have read here reek of a "Green Book" education (see Lewis' Abolition of Man).
8th December 2014 12:49pm
Adam
says...
In reply to Kieran Your points seem valid from a scientific point of view when it comes to emotion. But not moral. Isaac made a poor argument against your example. You are trying to disprove "morals" by proving that they are a chemical reaction that is a part of the brain, and they are but you fail to answer the true question at hand though. Why do those chemical reactions exist in the first place? You also fail to answer as to why the chemical reactions would create "morals" (which can also be defined as a set of rules that men ought to follow but don't) and why we do not follow these morals that our brains are creating. Surely if the brain controlled the whole body and created chemicals which created a feeling that must be followed then the brain would be capable of following them. But it doesn't therefore there must be a greater reason as to why we do not follow them. In your argument you are saying that human will does not exist. If it did not exist
... Read More
8th December 2014 12:52pm
Anthony
says...
Thanks to Kieran for your well-made observations presenting a different aspect, I once would have whole-heartedly agreed with them/you but I recently got blindsided by God. Maybe it's something that tends to happen with age - I was 58 - and will happen to you too. That would be nice - no offence.
8th December 2014 12:53pm
Duane Stevens
says...
If one is not a Christian he/she cannot understand God. I use the Bible as God's Word and therefore my whole consciousness is centered within its pages. Kieran wrote that God (though he/she used "god")is "chaos". They have either not read the Scriptures in its entirety or else did not believe what was written. When I read a love letter from my wife I believe it unconditionally because not only did I read it but I know from whom it came and accept its message as truth. One cannot understand just who God is unless they submit to his maxims and believe that he is "Faithful and True" and offers a fair and equal way to salvation. Today this understanding is available only through his Word. You cannot possibly accept a prophecy unless the Prophet is trusted.
8th December 2014 12:55pm
Susan
says...
These days a growing number of movies are in the public domain. These works are considered part of the public cultural heritage and may be freely used by all. Public domain refers to the body of creative works and knowledge in which no person, government or organization has any proprietary interest such as a copyright.
8th December 2014 12:55pm
RSS Alerts
Page 3 of 4
Add Comment
Powered by Commentics