Mere Christianity
Grk/Heb Fonts

PDF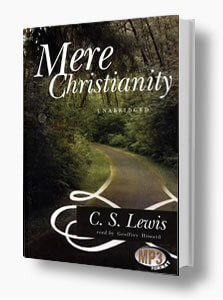 by C. S. Lewis
Born in Ireland in 1898, C. S. Lewis was educated at Malvern College for a year and then privately. He gained a triple first at Oxford and was a Fellow and Tutor at Magdalen College 1925-54. In 1954 he became Professor of Mediaeval and Renaissance Literature at Cambridge. He was an outstanding and popular lecturer and had a lasting influence on his pupils.
C. S. Lewis was for many years an atheist, and described his conversion in Surprised by Joy: 'In the Trinity term of 1929 I gave in, and admitted that God was God ... perhaps the most dejected and reluctant convert in all England.' It was this experience that helped him to understand not only apathy but active unwillingness to accept religion, and, as a Christian writer, gifted with an exceptionally brilliant and logical mind and a lucid, lively style, he was without peer.
In 1943 Great Britain, when hope and the moral fabric of society were threatened by the relentless inhumanity of global war, an Oxford don was invited to give a series of radio lectures addressing the central issues of Christianity. Over half a century after the original lectures, the topic retains it urgency. Expanded into book form, Mere Christianity never flinches as it sets out a rational basis for Christianity and builds an edifice of compassionate morality atop this foundation. As Mr. Lewis clearly demonstrates, Christianity is not a religion of flitting angels and blind faith, but of free will, an innate sense of justice and the grace of God.
TABLE OF CONTENTS

---
---

Comments (38)
Topic: Mere Christianity by C. S. Lewis
Sort
Andy
says...
8th December 2014 12:57pm
Morayo
says...
Legitimacy concernHi guys, thanks for this great resource. However, I'm a bit concerned about the legitimacy of sites that offers free downloads as I would not like to violate copyright laws. Your site however appears genuine, but I'd still appreciate it if you can confirm that you are authorised to provide these freebies. Thanks a lot.
8th December 2014 12:58pm
Programming
says...
Hey, I don't want to be mean, but am just wondering: is this resource legally freely available?
20th April 2015 3:48am
Lala
says...
There is nothing you can do, only God can captivate peoples hearts. Our role as Christians is to reflect the love of Jesus Christ and simply be a mirror reflection of his love towards us, once we try to do more than that, we have completely lost the point of our role as followers of Jesus Christ. No matter how bad we want to see people succeed and follow after him, we need to remember that God is in control and we have to trust his plan!
27th May 2015 9:20pm
Vadluri David livingstone
says...
Christians have not properly understood about three things what I believe are. About God. About gospel and about Grace. That's what we live different lives. That means a life not according to the Bible.
7th December 2015 1:43am
Artemis
says...
Does anyone know of a way to download these onto a computer?
6th January 2016 8:04pm
Jack
says...
14th January 2016 6:57pm
Miguel Lahunken
says...
Do you let threats of eternal torment in Hell dominate your life? There is a way out.
God is a just God. What did God take away from you that He didn't give you, therefore, being a just God, that He owes you back? He owes you back your previous eternal nonexistence. At your Judgement before Him, if you want it, ask for your eternal nonexistence back. God, being a just God, will give you your eternal nonexistence back. Then, you will never suffer again.
5th September 2017 6:04am
RSS Alerts
Page 4 of 4
Add Comment
Powered by Commentics