Mere Christianity
Grk/Heb Fonts

PDF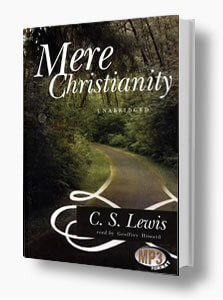 by C. S. Lewis
Born in Ireland in 1898, C. S. Lewis was educated at Malvern College for a year and then privately. He gained a triple first at Oxford and was a Fellow and Tutor at Magdalen College 1925-54. In 1954 he became Professor of Mediaeval and Renaissance Literature at Cambridge. He was an outstanding and popular lecturer and had a lasting influence on his pupils.
C. S. Lewis was for many years an atheist, and described his conversion in Surprised by Joy: 'In the Trinity term of 1929 I gave in, and admitted that God was God ... perhaps the most dejected and reluctant convert in all England.' It was this experience that helped him to understand not only apathy but active unwillingness to accept religion, and, as a Christian writer, gifted with an exceptionally brilliant and logical mind and a lucid, lively style, he was without peer.
In 1943 Great Britain, when hope and the moral fabric of society were threatened by the relentless inhumanity of global war, an Oxford don was invited to give a series of radio lectures addressing the central issues of Christianity. Over half a century after the original lectures, the topic retains it urgency. Expanded into book form, Mere Christianity never flinches as it sets out a rational basis for Christianity and builds an edifice of compassionate morality atop this foundation. As Mr. Lewis clearly demonstrates, Christianity is not a religion of flitting angels and blind faith, but of free will, an innate sense of justice and the grace of God.
TABLE OF CONTENTS

---
---

Comments (38)
Topic: Mere Christianity by C. S. Lewis
Sort
Cary Bohannon
says...
Great resource to be able to listen to the audio book, Mere Christianity, online. I recently used this to help prepare a lesson for our Sunday school class and was a great resource for me. Thank you for making this available.
8th December 2014 12:11pm
Pelagiya
says...
God bless you for this convenient and source.
8th December 2014 12:13pm
Kieran
says...
I think one of the few flaws in Lewis's reasoning is his main point. That the natural human laws are not instinct but some greater guidance. If you have ever dealt with drastic annihilation of morals in stroke victims you will see that morals that we feel we should follow (but freely ignore a lot of the time) can be wiped out (guilt for having lost these morals is also wiped out) by death of parts of the brain. It has also been shown that Animals also have moral leanings and animals also have the will to break these natural inclinations (for animals these include monogamy, incest and murder). In Lewis's time a lot of this was not known. I guess you could always argue that god acts through evolution to craft favorable morals but god would only loosely refer to some greater leaning towards order in chaos. If you know anything about chaos in the fractal sense you will see that order comes as a direct result of chaos, not the other way around. So is god chaos or the result of
... Read More
8th December 2014 12:14pm
Samantha Harrison
says...
I think you are missing something. What you are talking about is a physiological effect of having a stroke. Of course someone who has had severe brain damage caused by a stroke, injury or someone born with a severe learning disabilities can be incapable of knowing or understanding right or wrong. God gave us intellect for a reason, to understand and to learn. Without that we cannot know anything of morals or consequences of our actions. Yes morality is instinct and something we do not have to learn, but we also have to be able to understand what it is too, if there is no understanding of what day it is or who they are even, how are they to be expected to understand what they did was wrong ? or what even wrong is? or about what consequences they may bring. I believe God makes allowances for these souls. Luke 12:48 ...Everyone to whom much was given, of him much will be required...
6th January 2015 7:34am
Soldier
says...
What can be done...
to help these poor neo-intellectuals that define themselves by their so called "debunking" of Christianity. I feel so sad for them but don't know what I can do to break through that shell of ignorance and hate.I guess I can pray for them if nothing else.
8th December 2014 12:15pm
Robert
says...
"their so called "debunking" of Christianity" Too much of modern Christianity is NOT the gospel that was preached by Jesus and his apostles. Every Christmas we are told about three wise men who came to the manger, the Bible clearly says that Jesus was living in a house. Mohammed was so put off by the idolatry of the Roman Catholics that he sought a new revelation. How different the world would be if Islam did not exist because Mohammed had become a Catholic convert.
30th July 2015 1:42am
Mark
says...
Morals, kindness, conservatism come from the individual human being and to claim god has anything to do with it is just selling humanity short.I'd rather at least try to be intellectual than rely on god to do it for me.
Humans decide the difference between right and wrong and good and evil and to claim these things are just items that grow on a tree we are forbidden to eat from is just...ridiculous!
8th December 2014 12:16pm
Rex Peacock
says...
Who where the first humans to decide what was right and what was wrong. I think you are so wrong so prove it. I don't have to because you started it lol.
11th August 2016 1:27pm
Isaac Amirian
says...
Kieran's comment is simplistic at best. A person whose brain has been damaged may be physically incapable of carrying out the normal functions and feelings of morality, but that is something entirely different from morality itself, which cannot exist at all unless it is immaterial. Brains can think about immaterial things (human brains at least) and they can react to them, but that does not mean that they are the SOURCE of them. It can be hard to grasp for a person just looking for an easy way out of the Christian idea of objective morality. Here's a parallel. When a man loves a woman, his brain patterns change and react. It can be measured. That does not mean that the brain "makes" love. The actions of a person outside of the brain (the lover) is the cause of the emotion of love, and all of its attendant brain patterns. People losing their capacity for understanding/processing morals through unnatural injury, neither proves nor disproves anything. A dead person,
... Read More
8th December 2014 12:17pm
Kieran
says...
re: Isaac Amirian "Thats my whole point. That morals ARE objective, they exist ONLY in the brain. They are abstract reactions influenced by gentic makeup and external interpretation." Sorry I meant subjective. The only way to be objective is to take measurements using impartial instruments where the only approximation made has to do with resolution/scale limits. At best this is still only pseudo objective. Ether way making vast vague generalizations about things such as love and morals might leave you content but its going to leave you dazed and confused when you find you are left with nothing more than "good" and "evil" instead of an explanation and a better understanding of why people do certain things. The one thing I find great about Christianity is the concept of forgiving people. The dissapointment comes when you find yourself forgiving somone who you think is evil... then you get this great sense of being all saint like.. then you find out the reality of things... that
... Read More
8th December 2014 12:22pm
RSS Alerts
Page 1 of 4
Add Comment
Powered by Commentics