Clinging to a Counterfeit Cross
Grk/Heb Fonts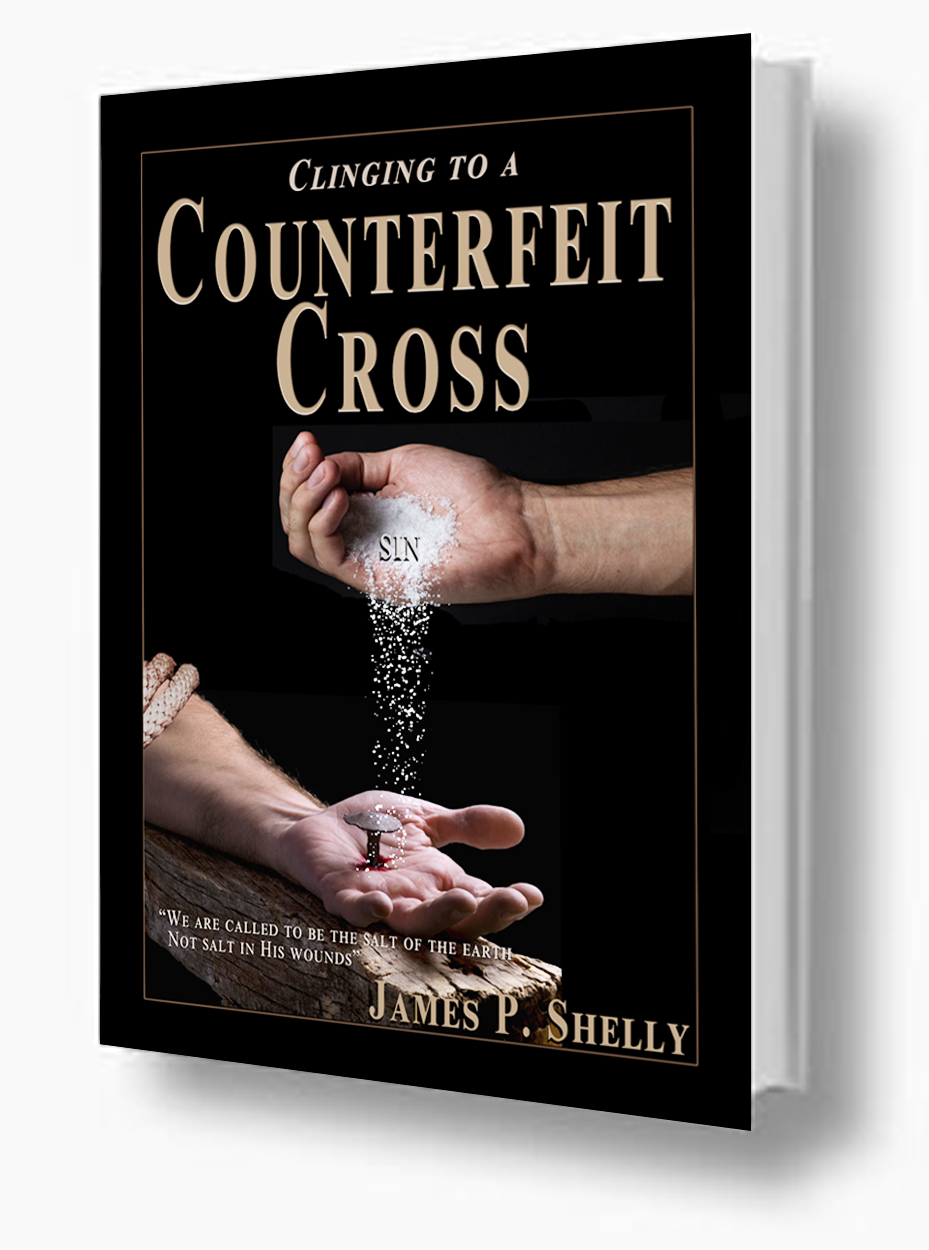 by James P. Shelly
An Argument for the Necessity of Obedience in the Christian Life
Copyright © 2012 by James P. Shelly
Published by Chronicles of Truth

All rights reserved. No part of this publication or audio may be reproduced, stored In a retrieval system or transmitted in any form by any means, electronic, Mechanical, photocopy, recording or otherwise, without the prior permission of the publisher, except as provided by USA copyright law.
Unless otherwise indicated, Scripture quotations are from The Holy Bible, New King James Version, copyright © 1979, 1980, 1982 by Thomas Nelson, Inc., Nashville, Tennessee. Bold or bracketed text in Scripture quotations represents author's emphasis.
For questions or comments please email us at:
inquire@truthaccordingtoscripture.com
TABLE OF CONTENTS
CHAPTER 1. The Enormity of the Error of Perverting the Gospel
CHAPTER 2. The Biblical Terms of Salvation vs. Modern Day Misconceptions
CHAPTER 3. Regeneration: The Creation of a New Man
CHAPTER 4. Sanctification: The Growth of the New Man
CHAPTER 5. We Walk By Faith Not By Sight
CHAPTER 6. The Christian's Cross
CHAPTER 7. The Lordship of Christ
CHAPTER 8. The Carnal Christian
CHAPTER 9. The Necessity of Bearing Fruit in The Parables of Christ
CHAPTER 10. Saint or Sinner?
CHAPTER 11. Righteousness vs. Self-righteousness
CHAPTER 12. Can a Christian Backslide?
CHAPTER 13. Love vs Law—Legalism—License
CHAPTER 14. Sin and the Misinterpretation of Romans 7
CHAPTER 15. Conclusion: Examine Yourselves As To Whether You Are In The Faith
APPENDIX 1. Quotes and Confessions in Church History
APPENDIX 2. The unaided Scriptural evidence that the Grace of the New Covenant has as its primary objective the obedience of its recipient to the extent that salvation is not obtained without it.

---
---

Comments
(11)
Topic
:
Clinging to a Counterfeit Cross
Pastor Darryl Reinsel
says...
Awesome Book Especially Chapter 6. Listened to the Entire Book now about 8 times. Would recommend it to all pastors and those who really desire to know what kind of faith God has called us to. One has to ask the question, "When the Son of Man returns, Will He find Faith on the earth?" So much of what is called 'faith' today, is nothing more than religion. Pastors simply copy and paste instead of studying the Word for themselves. They don't want to provoke people to a Holy Life, they just want everyone to feel good and keep coming.
http://abidinginhim.org/
8th December 2014 1:24pm
Faith
says...
I like the book!
I like your book even though I only read a little bit of it. I love you.
8th December 2014 1:25pm
Austin
says...
Student
How can i get a hard copy of this book? and how much would it cost?
thanks.
8th December 2014 1:26pm
Nicholas
says...
This book is such a powerful tool to build up the Church in love and holiness. This book shows beyond all doubt that our God commands us to love Him and serve Him with our whole being--nothing less. What is so incredibly obvious through the Bible (and, naturally, this book) is so rarely taught in the United States today, especially towards our nation's youth. As a middle school teacher at a private Christian school, I can say with full certainty that J.P. Shelly's book should be required reading so both youths and adults will know that the Bible is the absolute Truth and nothing less.
8th January 2015 5:35am
FRANK ANDRUZZI
says...
i would like to buy a hard copy of the book titled clinging to a counterfeit cross by james p shelly thank you
26th January 2016 2:42pm
FRANK ANDRUZZI
says...
i would like to buy a hard copy of the book titled clinging to a counterfeit cross by james p shelly thank you
26th January 2016 2:48pm
Luke
says...
I've enjoyed chapters 10 and 14. By the table of contents I couldn't if you touch on a certain topic in any of the chapters, namely, the teaching that Jesus was separated from the Father while on the cross and that God "turned his back on Jesus" while on the cross. I think the message of both John and Psalm 22 teach otherwise and I was wondering if you touch on that in your book.
27th October 2016 1:20am
Romel C. Deloatch
says...
How can I get a hard copy of this book 'Cling to a Counterfeit Cross by James P. Shelly
9th May 2017 3:34pm
James -webmaster
says...
Unfortunately, the book is not available in print at this time. However it is a priority of ours and we hope to have it available in the coming months.
11th May 2017 6:10am
Roberta Ludke
says...
I have just begun reading and I find it very thought-provoking indeed. It's too bad this book is not in print form as it would be easier to read and refer back to it.
1st July 2017 8:33am
RSS Alerts
Add Comment
Powered by Commentics