Clinging to a Counterfeit Cross
Grk/Heb Fonts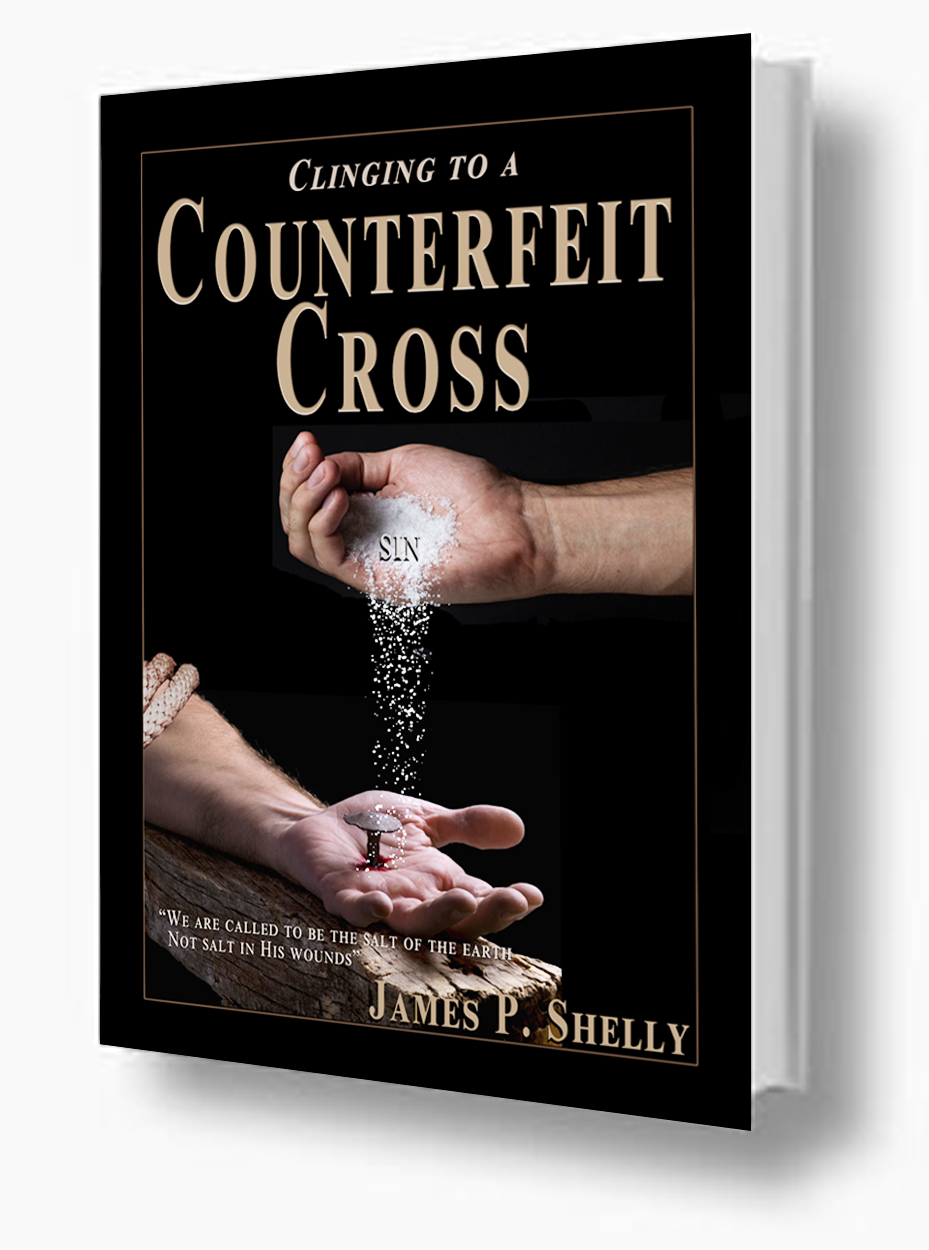 by James P. Shelly
CHAPTER FIVE
Sanctification: The Growth of the New Man
As was expressed in the previous chapter, in regeneration, God rescues man from his evil inclinations in order that He might sanctify them or set them apart for service to Himself. The type and shadow in the Old Testament being that of God's deliverance of His people out of their slavery in Egypt that they might serve Him. God says in Exodus 8:1, "Let My people go, that they may serve Me".
To serve God is the antithesis of what we do naturally as fallen sons of Adam. In other words, in Adam we are born with a natural inclination to be our own god, under our own authority, seeking to serve ourselves rather than our Creator. We reject the wisdom of God by leaning on our own understanding, with the foolish notion that we can improve on God when it comes to our own self-interest and well-being. Ironically, the greatest obstacle to our own self-preservation is this insubordinate desire for self-governance that consequently ends in self-destruction. Therefore, because God loves the objects of His grace, desiring "that it might be well with them and with their children forever" (Deut. 5:29), it would contradict His very nature if salvation did not consist of a restoration of the relationship lost in the fall—a deliverance from the rebelliousness of serving self in the flesh to that of serving God in the Spirit. In His infinite love He graciously offers humanity salvation—the preservation of their being—if they will only repent or turn from the sin of rejecting His sovereign authority to rule over their lives.
As slaves in Egypt, forced to serve the Egyptian authorities, God's people were restricted in their freedom to serve God as He had ordained. Their deliverance was then, a picture or type of the deliverance in salvation from the ruling power of sin, which we do not have within ourselves the power, or ability to escape. Therefore, grace must intervene if we are ever to have the capacity and freedom to serve God. We see in the Exodus God setting the captives free. However, they would then be tested in the wilderness as to whether or not they would use this freedom for God's intended purpose—to live in faithful obedience and service to Him in light of the expectation of entering the Promised Land (Deut. 8:2-5). It was a type or example of the wilderness experience of every professing Christian living in this sinful world in light of the promise of eternal life. Tragically, most of those whom God rescued out of Egypt abused their freedom and chose to disobey Him rather than trust in Him, and faithfully serve Him, and thus He destroyed them (Joshua 5:6, 1 Cor. 10:1-11). Likewise, we are warned in the New Testament that the same fate awaits all those who would abuse God's grace in like manner and "fall according to the same example of disobedience" (Heb. 3:1-4:11).
The Arminian would claim that those who fell were saved, however, because of their subsequent lapse into disobedience, they lost their salvation. The Calvinist would claim that since all true believers persevere in obedience, their fall proves that they were never truly saved. However, there is in this modern day, a third view within Protestantism. This view says, "Once saved always saved" and therefore those who "fall according to the same example of disobedience," though they will lose rewards in the Kingdom, retain their salvation. In other words if they profess to "believe" they are "eternally secure" and therefore their subsequent behavior is irrelevant to their salvation. We can have vigorous debate over which of the first two views are biblical while still maintaining orthodoxy. However, the third view is not only a clear contradiction of the passage under consideration; it contradicts a myriad of other passages throughout the Word of God. In light of this, as well of the fact that this view finds no creditable validation in Church history, we must reject it as a heretical departure from the faith. We find throughout Scripture, even as in the Exodus, that not only is the initial act of sanctification, or being set apart for service to God, necessary for salvation, but perseverance in sanctification is equally necessary. Therefore, only those who persevere in faithful service to God will experience the fulfillment of the glorious hope of hearing the words of their blessed Savior, "Well done My good and faithful servant" (Matt. 25:21). We deceive ourselves if we imagine that we will hear these words if they are not a reality in practice. We are not faithful servants by imputation but by deed (v. 23). On the other hand, those who are found unfaithful in their service to God will hear the contrary words of the Lord, "You wicked and lazy servant… cast the unprofitable servant into the outer darkness. There will be weeping and gnashing of teeth" (Matt. 25:26-30). We notice here that both subjects are said to be servants, but only one was accepted by God. Both would profess to "believe," but only one walked worthy of his profession (Col. 1:10). So here, we see another instance of the constant theme that runs throughout God's Word. There are only two ways, two choices, two options, two outcomes. There is the broad way that leads to destruction, or the narrow way that leads to life (Matt. 7:13)—Those who are slaves of sin which leads to death, or those who are slaves of obedience which leads to righteousness and life (Rom. 6:16)—Those who sow to the flesh resulting in death or those who sow to the Spirit resulting in everlasting life (Gal. 6:8)—The carnally minded which is death, or the spiritually minded which is life and peace (Rom. 8:6). Those who love their life and lose it or those who hate their life in this world and keep it for eternal life (John 12:25)—faithful servants or wicked and lazy servants. Scripture leaves us with no other option. Either we faithfully serve God or we perish.
It should be of vital interest to us then to understand what it means to serve God and how it is accomplished. To serve God is, in simple terms, obedience from the heart. It is in essence, to acquiesce to His will according to the inward man. It is the product of grace; the effectual work of the Spirit in renewing the heart and mind, producing a change in the character and will, whereby outward acts of godliness become increasingly evident. It is His work, through His power, producing His fruit and thus it is referred to in Scripture as "the fruit of the Spirit" (Gal. 5:22). Again, Jesus said, "For a good tree does not bear bad fruit, nor does a bad tree bear good fruit. For every tree is known by its own fruit" (Luke 6:43). The good tree that is initially produced by the Spirit in regeneration, will, as it grows, produce good fruit through sanctification by the same Spirit. Therefore, when Scripture states that every professing believer will be judged according to his deeds (or fruit), whether they are good or bad (John 5:28-29), it is a judgment based on whether or not his profession was simply an outward expression of the natural man, or the result of the supernatural work of God in regeneration, continued in sanctification. The quality of the fruit will determine if the profession was a work of the Spirit by grace or a product of the flesh—the former being good the latter being evil. So then, "…all who are in the tombs will hear His voice, and come forth, those who did the good deeds to a resurrection of life, those who committed the evil deeds to a resurrection of judgment" (John 5:28-29, NASB)
So then, the same Spirit that creates new life within the soul in regeneration takes up residence within the subject of His grace enabling him to serve and worship the Father in the way in which He Himself demands, in His true character and nature. Therefore, even as Christ always does those things that please the Father, it is in the heart of every Christian the desire to imitate His example (1 John 2:6).
"Therefore, we make it our aim whether present or absent, to be well pleasing to Him" (2 Cor. 5:9)."
And whatever we ask we receive from Him, because we keep His commandments and do those things that are pleasing in His sight" (1 John 3:22).
We notice in 2 Cor. 5:9, that it does not say, as with Christ, we always do those things which please the Father, but that it is our "aim" to do so. Those who have this aim naturally seek to increase in their knowledge of God that they might grow in their understanding of what actually and practically pleases the Father that they might reach their desired goal. Paul writes to the Colossians,
"We…do not cease to pray for you, and to ask that you may be filled with the knowledge of His will in all wisdom and spiritual understanding; that you may walk worthy of the Lord, fully pleasing Him, being fruitful in every good work and increasing in the knowledge of God; strengthened with all might, according to His glorious power, for all patience and longsuffering with joy (Col. 1:9-11).
The work of the Spirit in sanctification then is to guide us and lead us into all truth (John 16:13), filling us with the knowledge of His will, working in us both to will and to do what is pleasing to God (Phil. 2:13) renewing the mind so that we might put on the very mind of Christ (1 Cor. 2:16). Therefore, sanctification is to the believer, a most precious doctrine. For it is in this that his desires are increasingly being satisfied and his aims accomplished as he is continually being conformed to that One in whom God is well pleased. That as it is written, Christ might be "the firstborn of many brethren." It is those of whom it is said are born anew, and being of His Seed, this new life progressively grows into His likeness, and ultimately to perfection in glory (Rom. 8:29). Justification, regeneration, sanctification, and glorification is Christianity. To fall short of any one of these, is to fall short of salvation. Justification is to be declared positionally righteous before God—regeneration is the seed of an imparted righteousness—sanctification its growth—glorification its consummation.
Sanctification then, is the lifelong pursuit after, and advancement towards, a life that is pleasing to God. The measuring rod being that of the character of the person of Christ as revealed in His Word. It is, in a word, the sum and substance of the Christian life. Sanctification begins at regeneration and continues without interruption until the death of the body.
"And I am convinced and sure of this very thing, that He who began a good work in you will continue until the day of Jesus Christ right up to the time of His return developing [that good work] and perfecting and bringing it to full completion in you" (Phil. 1:6 amplified).
J.C. Ryle, wrote:
Sanctification, again, is the outcome and inseparable consequence of regeneration. ...A regeneration, which a man can have and yet live carelessly in sin or worldliness, is a regeneration invented by uninspired theologians, but never mentioned in Scripture. On the contrary, St. John expressly says that 'He that is born of God doth not sin,' 'doeth righteousness,' 'loveth the brethren,' 'keepeth himself' and overcometh the world.' ...In a word, where there is no sanctification there is no regeneration and where there is no holy life there is no new birth. This is no doubt, a hard saying to many minds, but, hard or not, it is simple Bible truth. It is written plainly that he who is born of God is one whose 'seed remaineth in him: and he cannot sin, because he is born of God' (1 John 3:9). ...Sanctification, again, is the only certain evidence of that indwelling of the Holy Spirit which is essential to salvation. 'If any man have not the Spirit of Christ, he is none of His' (Rom. 8:9). This Spirit never lies dormant and idle within the soul: He always makes His presence known by the fruit He causes to be borne in heart, character, and life. 'The fruit of the Spirit' says St. Paul, 'is love, joy, peace, long suffering, gentleness, goodness, faith, meekness, temperance, and such like' (Gal. 5:22). Where these things are to be found, there is the Spirit, where these things are wanting, men are dead before God. The Spirit is compared to the wind and, like the wind, He cannot be seen by our bodily eyes. But, just as we know there is a wind by the effect it produces on waves and trees and smoke, so we know the Spirit is in a man by the effects He produces in a man's conduct. It is nonsense to suppose that we have the Spirit if we do not also 'walk in the Spirit' (Gal. 5:25). We may depend on it with a positive certainty that, where there is no holy living, there is no Holy Ghost. The seal that the Spirit stamps on Christ's people is sanctification. As many as are actually 'led by the Spirit of God, they', and they only, 'are the sons of God' (Rom. 8:14). ...The very idea of a man being 'sanctified', while no holiness can be seen in his life, is flat nonsense and a misuse of words. Light may be very dim; but if there is only a spark in a dark room, it will be seen. Life may be very feeble; but if the pulse only beats a little, it will be felt. It is just the same with the sanctified man: his sanctification will be something felt and seen, though he himself may not understand it. A 'saint,' in whom nothing can be seen but worldliness or sin, is a kind of monster not recognized in the Bible!1 (emphasis added).
Martin Lloyd Jones in his commentary on Rom. 8 states,
There is no such thing as a Christian who is 'only justified', who has merely believed on the Lord to forgiveness and to salvation from hell, but who goes on living afterwards 'in the flesh'. No such thing is described in the New Testament. Regeneration, and being 'in Christ' and 'having the Spirit of Christ' in us make that quite impossible. You cannot be simply a forgiven Christian; if you are a Christian you are regenerate, you are 'in Christ', you are 'in the Spirit' and the 'Spirit is in you'. That is true of every Christian. There is no such thing as the merely justified Christian who has not yet 'taken his sanctification'.…The Christian may fall into sin, but that does not mean that he is then 'walking after the flesh'. He is still 'walking after the Spirit' but he has fallen into sin. He has not changed his realm or state; he is still 'in Christ' though he has fallen into sin. If you have really believed on the Lord Jesus Christ you are in the realm of The Spirit, you are walking 'in the Spirit'; your whole mind and outlook, your desires, your whole conduct—everything is different....God's ultimate reason for sending 'His own Son in the likeness of sinful flesh, and for sin' and for 'condemning sin in the flesh' was 'that the righteousness of the law might be fulfilled in us who walk not after the flesh, but after the Spirit.' And if you are not 'walking after the Spirit', the righteousness of the law is not being fulfilled in you; you are still 'in your sins', you are still 'under condemnation'. Therein lies the importance of this phrase, 'who walk not after the flesh, but after the Spirit'. Thank God, it is not added to depress us, but to safeguard us against dangerous heresy, and above all, to give us an absolute assurance that 'He which hath begun a good work in you, will perform it until the day of Jesus Christ.' The righteousness of the law will be fulfilled in us, because it is God who sent His own Son into this world to live and die and rise again in order that we might be reconciled to Him, in order that we might be born again and be His children, in order that His Spirit might dwell in us and work in us until we are glorified. It is God's plan, and God's work in every phase and detail.2
Scripture says, "That which is born of the flesh is flesh, and that which is born of the Spirit is spirit" (John 3:6). The spiritual man is not sometimes a carnal man and sometimes a spiritual man. He has passed over from carnal to spiritual, from death to life. He lives in a carnal existence, but he is spiritual —spiritual realities are that which dominate and govern his thoughts and actions. His citizenship is in heaven (Phil. 3:20). Our physical existence is irrelevant to our citizenship. The child of God is not, as is often thought, a citizen of this world and a citizen of heaven simultaneously. Scripture states that we are pilgrims and sojourners, aliens or temporary residents, in a foreign land (1 Pet. 2:11), heaven being our home. When someone visits from another country, he does not have dual citizenship. He is a foreigner in the one and a citizen of the other. Jesus said of His disciples, "They are not of the world, just as I am not of the world" (John 17:16). A. W. Pink writes,
Just in proportion as we apprehend our new standing before God and our portion in His Son, so will this world become to us a dreary and desolate wilderness. To the natural man the world offers much that is attractive and alluring; but to the spiritual man all in it is only 'vanity and vexation of spirit.' To the eye of sense there is much in the world that is pleasant and pleasing; but the eye of faith sees nothing but death written across the whole scene—'change and decay in all around I see.' It has much which ministers to 'the lust of the flesh, the lust of the eye, and the pride of life,' but nothing whatever for the new nature. So far as the spiritual life is concerned, the world is simply a wilderness—barren and desolate….The wilderness is the place of travelers, journeying from one country to another; none but a madman would think of making his home there. Precisely such is this world. It is the place through which man journeys from time to eternity. And faith it is which makes the difference between the way in which men regard this world. The unbeliever, for the most part, is content to remain here. He settles down as though he is to stay here forever. "Their inward thought is, their houses shall continue forever, and their dwelling-places to all generations; they call their land after their names" (Ps. 49:11). Every effort is made to prolong his earthly sojourn, and when at last death claims him, he is loath to leave. Far different is it with the believer, the real believer. His home is not here. He looks 'for a city which hath foundations whose builder and maker is God' (Heb. 11:10). Consequently, he is a stranger and pilgrim here (Heb. 11:13). It is of this the 'wilderness' speaks. Canaan was the country which God gave to Abraham and his seed, and the wilderness was simply a strange land through which they passed on their way to their inheritance.3
Whereas the ways of the world were once that which discerned the thoughts and intents of the old man's heart, the Word of God is now to the new man (Heb. 4:12). It is a spiritual seed (1 Pet. 1:23) implanted in the heart which continually works to conform it to the image of that Word which is Christ. In whatever way we might hinder this work, if God intends it to be brought to its full completion, He will do so. Even as Jonah rebelled against God's intended purpose toward Nineveh (Jonah 1:1), and though it cost Jonah much pain and anguish in the process, God used whatever means necessary to ultimately accomplish His will (Jonah 3:1). Jonah did not need to "get out of the way" so that God could work through him, or "let go and let God" as is the common expression, but rather Jonah needed his mind changed from his initial response to God's command so he, in his own person, would fulfill God's will. In other words if God would have left Jonah to himself, without intervening, bringing about circumstances leading to his repentance, Jonah would have perished in His sin. We see then the obedience required of Jonah necessary to fulfill God's will was all by the intervention of God's grace. Even so, in sanctification God works in us, by whatever means necessary, with whatever pains it may take, "both to will and to do for His good pleasure."
The Belgic Confession of Faith Article XXIV, states regarding Man's Sanctification and Good Works,
We believe that this true faith, being wrought in man by the hearing of the Word of God and the operation of the Holy Spirit, sanctifies him and makes him a new man, causing him to live a new life, and freeing him from the bondage of sin. Therefore it is so far from being true that this justifying faith makes men remiss in a pious and holy life, that on the contrary without it they would never do anything out of love to God, but only out of self-love or fear of damnation. Therefore it is impossible that this holy faith can be unfruitful in man; for we do not speak of a vain faith, but of such a faith which is called in Scripture a faith working through love, which excites man to the practice of those works which God has commanded in His Word. These works, as they proceed from the good root of faith, are good and acceptable in the sight of God, forasmuch as they are all sanctified by His grace. Nevertheless they are of no account towards our justification, for it is by faith in Christ that we are justified, even before we do good works; otherwise they could not be good works, any more than the fruit of a tree can be good before the tree itself is good. Therefore we do good works, but not to merit by them (for what can we merit?); nay, we are indebted to God for the good works we do, and not He to us, since it is He who worketh in us both to will and to work, for his good pleasure. Let us therefore attend to what is written: When ye shall have done all the things that are commanded you, say, we are unprofitable servants; we have done that which it was our duty to do.
Today, many teach that we should practice righteousness, but if the believer refuses to take up the proper means by which to do so, the practice of righteousness will not be realized. However, they fail to see that when the Apostle John makes the statement, "Whoever has been born of God does not sin, for His seed remains in him; and he cannot sin" he leaves absolutely no room for options. The truth of this statement is not dependent on what one does, but what one is. The Christian is a born one of God and therefore does not practice sin. John says that if one is born of God, then it is not possible that he can continue to live in sin. He does not say that certain requirements must first be met. He does not say that the born one of God will not practice sin unless he refuses to "yield" to, or "walk in the Spirit," or neglects the reading and hearing of the Word. Nor does John say that this is true unless one refuses the lordship of Christ and does not follow Him as His disciple. However, all these means must be taken up for this statement of Johns to be true. So then, we would find that it is the Seed that so effectually works in the heart of the believer that these means will indeed be appropriated, thus being the cause of the born one of God's obedience. It is by grace. The Word of God is the means used by the Spirit, and the Word being mixed with faith, being living and powerful, has such an effect on the believer that obedience to the Word becomes his natural course of life. It is the Christian life. If the Word of God lacks such power in the heart, and is able to ignore the exhortations of the Word, it is certain that the Seed does not remain in that heart. Again, God says, "I will cause you to walk in My statutes and you will keep My judgments and do them." "I will cause you to hunger and thirst for My Word; I will cause you to take up all the necessary means whereby the practice of righteousness is realized. Most assuredly, the statement "whoever is born of God does not sin," can only be true of one who walks in the Spirit, abides in Christ and His Word as His disciple, and just as certainly it is a statement that is true of every believer without exception. John does not say, "Some who are born of God" but rather "whoever is born of God." Calvin says of 1 John 3:9:
Some imagine such a motion of the Spirit as leaves to us the free choice of good and evil. Hence, they draw forth merits, because we willingly obey the influence of the Spirit, which it is in our power to resist. In short, they desire the grace of the Spirit to be only this, that we are enabled to choose right if we will. John speaks far otherwise; for he not only shows that we cannot sin, but also that the power of the Spirit is so effectual, that it necessarily retains us in continual obedience to righteousness. Nor is this the only passage of Scripture which teaches that the will is so formed that it cannot be otherwise than right. For God testifies that he gives a new heart to His children...that they may walk in His commandments. John not only shows how efficaciously God works once in man, but plainly declares that the Spirit continues His grace to the last, so that inflexible perseverance is added to newness of life. Let us not imagine...that it is some neutral movement, which leaves men free either to follow or reject; but let us know that our own hearts are so ruled by God's Spirit that they cleave to righteousness4 (emphasis added).
When we are born in the flesh we choose to eat, but we do not choose to be hungry. Hunger is that which God has created in us, and even though it is our choice as to whether or not we will eat, it is an inevitable choice. Likewise, when we are born of the Spirit, God creates in us an appetite for spiritual food, resulting in the inevitable choice of feeding on His word. The child of God does not need to be enticed to hunger and thirst after righteousness any more than a newborn baby needs to be enticed to seek its mother's breast. Although he must be guided and encouraged that he would eat the appropriate food for his edification, he instinctively knows to seek that source wherein his appetite will be appeased, and it is that source whereby he grows (1 Pet. 2:2). Christ said, "Blessed are those who hunger and thirst after righteousness for they shall be filled" (Matt. 5:6). This appetite is only evidenced in those who continually feed upon Christ and drink in His word since these are the primary provisions provided by God that we might grow in righteousness. Therefore Christ says, "If you abide in My word you are My disciples indeed" (John 8:31). We will make many choices in the Christian life, but it is God who works behind the will, and since it is God, the ruler of all of heaven and earth, who works in us, we are exhorted to work out our own salvation with fear and trembling (Phil. 2:12).
In the book "The Forgotten Spurgeon" by Ian Murray, he quotes Spurgeon as saying,
A man who is really saved by grace does not need to be told that he is under solemn obligations to serve Christ; the new life within him tells him that.
The book also states,
It is frequently said that a man who has made a decision with little evidence of a change of life may be a 'carnal' Christian who needs instruction in holiness, or if the same individual should gradually lose his new found interests, the fault is frequently attributed to lack of 'follow-up', or prayer, or some other deficiency on the part of the Church. The possibility that these marks of worldliness and falling away are due to the absence of a saving experience at the outset is rarely considered.5
The amplified version of Philippians 2:13 states:
For it is God Who is all the while effectually at work in you energizing and creating in you the power and desire both to will and to work for His good pleasure and satisfaction and delight .
Why then do we work to please God? Because God works in us the will and desire to please Him. If we have no desire to please Him then He is not at work in us. We are still in the flesh and those in the flesh cannot please God (Rom. 8:8). We walk by sight. "For without faith it is impossible to please God" (Heb. 11:6). The Father says of Jesus, "This is My beloved Son, in whom I am well pleased" (Matt. 17:5). We are pleasing to God only so far as we walk by faith, walking even as Christ walked (1 John 2:6), that One in whom the Father is well pleased (Heb. 13:21). What is it that pleases the Father? Obedience to His will. Again, Jesus said, "I always do those things that please Him" (John 8:29). If there were any one wish in the Christians heart that he would seek to be granted above any other, it would be that he could make this statement of himself in regards to his heavenly Father, "I always do those things that please Him." This desire is indelibly engraved in every believer's heart. What a glorious promise it is, that it will become increasingly true of every child of God in sanctification and will be fully realized in glorification. There is nothing on this earth that we could receive that even remotely compares to the illustrious privilege of being transformed from glory to glory, into the image of Christ our beloved Savior. "But we all, with unveiled face, beholding as in a mirror the glory of the Lord, are being transformed into the same image from glory to glory, just as by the Spirit of the Lord" (2 Cor. 3:18). If we could gain the whole world and every pleasure therein, it is but dung in comparison with this glorious promise (Phil. 3:8). To the natural man it is all foolishness, for they are completely blind to these precious promises, "For the message of the cross is foolishness to those who are perishing, but to us who are being saved it is the power of God" (1 Cor, 1:18). However, the child of God, with his eyes now opened, embraces these promises with the utmost joy and delight. They are that by which he lives, moves, and has his being. How tragic then to teach a professing Christian that he must earn this promise by his own efforts when God freely offers it by grace through faith. Charles Hodge writes of this passage:
We shall be like Christ, because we shall see him as he is. 1 John 3:2. The conformity to the image of Christ, as it arises from beholding his glory, must of course begin here. It is the vision of that glory, although only as in a glass, which has this transforming power. As the vision is imperfect, so the transformation is imperfect; when the vision is perfect, the conformity will be perfect. Rom. 8:29; 1 John 3:2. Only they are Christians, who are like Christ...The transformation is carried forward without intermission, from the first scarce discernible resemblance, to full conformity to the image of Christ, both as to soul and body.6
Thus, in sanctification we are ever becoming more pleasing to the Father. This is a promise fulfilled in all who are His. To teach that "some of us have not entered into the experience of sanctification"7 is to tear asunder the Gospel, robbing not only the professing Christian of his inheritance in Christ, but God of His glory in salvation.
Calvin quotes Augustine as stating:
'For so much is the will of the saints inflamed by the Holy Spirit, that they are able, because they are willing; and willing, because God worketh in them so too will.' We have now an attestation by Augustine to the truth which we are specially desirous to maintain, viz., that the grace offered by the Lord is not merely one which every individual has full liberty of choosing to receive or reject, but a grace which produces in the heart both choice and will: so that all the good works which follow after are its fruit and effect; the only will which yields obedience being the will which grace itself has made. In another place, Augustine uses these words, 'Every good work in us is performed only by grace,' (August. Ep. 105), as he in another place (Ep. 46) describes it, a will which can neither be turned to God, nor continue in God, unless by grace; a will which, whatever its ability may be, derives all that ability from grace. Accordingly, in the passage already quoted from the Apostle Paul, he attributes the whole operation to God, 'It is God which worketh in you both to will and to do of his good pleasure' (Phil. 2:13). The first part of a good work is the will, the second is vigorous effort in the doing of it. God is the author of both....Moreover, since even a good will is still weighed down by the burden of the flesh, and prevented from rising, it is added, that, to meet the difficulties of the contest, God supplies the persevering effort until the effect is obtained. Indeed, the Apostle could not otherwise have said, as he elsewhere does, that 'it is the same God which worketh all in all' (1 Cor. 12:6), words comprehending, as we have already observed, (sec. 6) the whole course of the spiritual life. As to the common saying, that after we have given admission to the first grace, our efforts co-operate with subsequent grace, this is my answer:—If it is meant that after we are once subdued by the power of the Lord to the obedience of righteousness, we proceed voluntarily, and are inclined to follow the movement of grace, I have nothing to object. For it is most certain, that where the grace of God reigns, there is also this readiness to obey. And whence this readiness, but just that the Spirit of God being everywhere consistent with himself, after first begetting a principle of obedience, cherishes and strengthens it for perseverance? If, again, it is meant that man is able of himself to be a fellow-laborer with the grace of God, I hold it to be a most pestilential delusion. The Apostle's doctrine is not, that the grace of a good will is offered to us if we will accept of it, but that God himself is pleased so to work in us as to guide, turn, and govern our heart by his Spirit, and reign in it as his own possession. Ezekiel promises that a new spirit will be given to the elect, not merely that they may be able to walk in his precepts, but that they may really walk in them… (Ezek. 11:19; Ezek. 36:27) (emphasis added).8
Many would say that sin halts the working of the Spirit, by quenching the Spirit, but when Paul speaks of quenching the Spirit in 1 Thess. 5:19, he is not referring to the believer's individual acts of sin. The context shows that he is referring to the quenching of the Spirit by despising prophecy (1 Thess. 5:20). The word "despise" means to "set at naught." Prophesy being that of "divinely inspired speech." In other words, what Paul is saying here in essence is, do not set at naught divinely inspired speech, for to do so would quench the ministry of the Spirit within the corporate body of believers. The IVP Bible Commentary says of this passage, "Most of early Judaism associated the Spirit especially with prophecy: Paul does not want anyone quenching genuinely inspired speech."9
The NIDNTT says,
In verse 20 attention is directed toward one particular gift, prophecy, but here (v.19) the concern is more general: no gift of the Spirit is to be extinguished. …If those who have been given gifts by the Spirit are either not allowed to exercise them with the community or what they say and do is ignored, then in effect the fiery power and light of the Spirit is quenched and the Church is not built up.10
Paul was emphasizing prophecy because that was the more important gift for the edification of the church (1 Cor. 14:1). However, whether it was prophecy or the interpretation of tongues, it is the "Spirit of truth" that is quenched, when these gifts are set at naught. When we say that an individual's sin quenches the Spirit, we are taking this passage out of context. If sin in the believer quenched the Spirit, it would have the effect of extinguishing the operations of the Spirit in exposing his sin and thus it would remain hidden to the believer. If the light of the Spirit does not expose the believer's sin that he might confess it, he is left in a perpetual state of darkness and without hope. Therefore, those who walk in the light are continually confessing their sin as the light of the truth is continually exposing and convicting the believer of sin. Sin certainly grieves the Spirit, but grieving the Spirit does not "quench" the Spirit.
The Christian is one who abides in Christ. He is in vital union with Him. "By this we know that we abide in Him, and He in us, because He has given us His Spirit" (1 John 4:13). When this union becomes clouded with sin, the believer feels a separation from that intimacy and his poor soul aches and groans in torment. He finds himself crying out for the restoration of that intimacy that he so treasures.
"Have mercy upon me, O'God, according to your lovingkindness; according to the multitude of Your tender mercies, blot out my transgressions. Wash me thoroughly from my iniquity, and cleanse me from my sin" (Ps. 51:1, 2)
"Create in me a clean heart, O'God, and renew a steadfast spirit within me. Do not cast me away from your presence, and do not take Your Holy Spirit from me. Restore to me the joy of your salvation, and uphold me by Your generous Spirit" (Ps. 51:10-12).
Sin produces in us that feeling of estrangement from the Father that only repentance can restore. Therefore, the believer grieves over his sin. His hatred of sin increases becoming ever more abhorrent to himself. When he falls into sin, he cries out for restoration, strength, and forgiveness. Because of what Christ has done by way of the cross, God is there with outstretched arms. His justice brings us to our knees, His shed blood lifts us up, His love brushes off the filth, and faith presses on. For God, "preserves the way of His saints" (Prov. 2:8). "Though he fall he shall not be utterly cast down for the Lord upholds him with his hand" (Ps. 37:24). This is not the feeble hand of a man that upholds the saint, but the hand of Almighty God. It is in the embrace of love and forgiveness that his love for God is refined and brought to a higher state. He grows in Grace. Where there is forgiveness, there is love, and love always results in obedience (John 14:21). Therefore, we discover that God uses even our times of stumbling in the process of sanctification. What Satan intends for evil God uses for good, "…you meant evil against me; but God meant it for good…" (Gen. 50:20). Indeed, "all things work together for the good to those who love God" (Rom. 8:28).
What shall we say then, "let us do evil that good may come?" (Rom. 3:8) May it never be! For it is impossible for one to be hungering and thirsting after righteousness, in pursuit of holiness, and at the same time have within a desire that he might continue in his sin (Rom. 6:14-17). "How shall we who died to sin live any longer in it?" (Rom. 6:2). How can we who are alive to God, to His righteousness, with our minds set on the Spirit, continue to live after the flesh. For the old man loved his sin, his mind set being no higher than the things of this world, but the new man who has died with Christ is a slave to God and His righteousness (Rom. 6:22), for the world is his enemy (James 4:4) and sin his greatest sorrow. To the man without faith the word is weak and lifeless. To the man born of the Spirit every word is living and powerful piercing to the depths of the heart and soul (Heb. 4:12), cleansing and sanctifying his heart.
"Seeing that His divine power has granted to us [a gift] all things that pertains to life and godliness, through the true knowledge of Him who called us by His own glory and excellence. For by these He has granted to us [a gift] His precious promises, in order that by them you might become partakers of the divine nature, having escaped the corruption that is in the world by lust" (2 Pet. 1:3-5)
"And to her [the church] it was granted [a gift] to be arrayed in fine linen, clean and bright" [And what is this gift of fine linen?] "It is the righteous acts of the saints" (Rev. 19:8) [text in brackets are mine].
This is true grace. It is no less than a supernatural renewing and cleansing of the heart by the Holy Spirit, a heart out of which flow rivers of living water (John 7:38). John Owens writes:
Such motions and inclinations unto obedience do work in the minds of believers, from this principle of holiness; it produces in them a constant, invariable disposition unto all duties of the life of God....and this new spiritual disposition consists in a constant complacency of mind in that which is good and according to the will of God, in an adherence by love unto it, in a readiness and fixedness of mind with respect unto particular duties. In brief, it is that which David describes in the 119th Psalm throughout, and that which is figuratively foretold concerning the efficacy of the grace of the gospel in changing the natures and dispositions of those that are partakers of it, Isa. 11:6-8. This every believer may ordinarily find in himself; for although this disposition may be variously weakened, opposed, interrupted by indwelling sin, and the power of temptation; though it may be impaired by a neglect of the stirring up and exercise of the principle of spiritual life, in all requisite graces, on all occasions; yet it will still be working in them, and will fill the mind with a constant displacency with itself, when it is not observed, followed, improved. No believer shall ever have peace in his own mind, who has not some experience of a universal disposition unto all holiness and godliness in his mind and soul: herein consists that love of the law, of which it is said those in whom it is have "great peace, and nothing shall offend them," Ps. 119:165; it is that wherein their souls find much complacency. All this, as we observed before, faith will continue to do constantly, under temptations and desertions. There are seasons wherein the soul may be very weak, as unto the powers, effects, and duties of this spiritual life; such the psalmist oftentimes complains of in his own case, and it is evident in the experience of most. Few there are who have not found, at one time or another, great weakness, decays, and much deadness in their spiritual condition. And sometimes true believers may be at a loss as unto any refreshing experience of it in its operations. They may not be able to determine in the contest whether sin or grace have the dominion in them. Yet even in all these seasons faith will keep up the soul unto a constant high approbation of this way of holiness and obedience, in its root and fruits, in its principle and effects, in its nature, disposition, and duties11 (emphasis added).
Charles Hodge writes,
Another mistake on this subject is made by those who suppose that religion is a fitful sort of life; an alternation of excitement and insensibility. Those who labor under this delusion, are religious only on certain occasions. They live contentedly for months in unconcern, and then, if they can be moved to tenderness or joy, they are satisfied with the prospect of another period of collapse. No form of life is thus intermittent. Neither plants nor animals thus live. Men do not, when in health, pass from convulsions to fainting, and from fainting to convulsions; nor does religion, when genuine, ever assume this form. It has, indeed, its alternations, as there are periods of health and sickness, of vigor and lassitude, in the animal frame; but just so far as it deserves the name of religion, it is steady, active, and progressive; and not a series of spasms.12
Dear precious "little children" says John, "let no one deceive you. He who practices righteousness is righteous, just as He is righteous" (1 John 3:7). We as saints, the children of God, are sons of obedience. Obedience is the distinguishing mark of our character. We have not the character trait of the sinner or the backslider; we are sons of light, and sons of day. As sons and daughters of God, we have put on, by means of the Spirit, the character of our Father even that of our Lord Jesus Christ. "Not my will but Thine" is the cry of the born one of God. "I must be about my Father's business." Those born into the family of God are those who hear the word of their Father, and "do it." Jesus says it quite clearly, "My mother and My brothers are these who hear the word of God and do it" (Luke 8:21). Do we find any clearer words in all of Scripture? These are not difficult words to understand. We do not have to be a theologian. Any common man can comprehend its message. Read it as many times as you will—pray about it, look up the Greek for every word and you will come away with the same meaning. "These who hear the word of God and do it." Again, the word "do" in this passage is the greek word "poieo" meaning "to practice," "the habit of doing something" (Vines). These and these alone are Christ's true brothers and sisters. These are the ones who are in relations with Him. These are the ones born into His family. They learn of My words and lovingly follow after Me. They are My disciples. He is not talking about perfection here, but rather a predominant disposition to please Him, a governing desire to learn of Him and obey Him. Spurgeon rightly said:
We do not know the truth aright unless it makes us holy. We do not hold truth in a true way unless it leads to a true life....the truth, when fully used will daily destroy sin, nourish grace, suggest noble desires, and urge to holy acts.13
Certainly any teaching that says that some Christians have entered into the sanctification process while others have refused to be partakers of it, will lead to pride and every false way. Do you disassociate yourself, or look down on those you think are not as spiritual as you? Tremble then at the word of God, for those "Who say, 'keep to yourself, do not come near me, for I am holier than you!' These are smoke in My nostrils, a fire that burns all the day (Isa. 65:5). Every Christian from the babe to the most mature are on the path of sanctification. We entered by grace, and we will continue by grace. If we are not on the path, we are not in "the way." We must press upon our heart and mind, "that no flesh shall glory in His presence" (1 Cor. 1:29), testing all Scripture in light of this truth. If we interpret Scripture in such a way that enables man to boast in any way it is not truth, it is not grace. When we teach that sanctification is some higher level of Christianity, and relies on our own efforts to obtain to that level, we fail the test. Any teaching that denies that the whole of the Christian life is entirely by grace, giving all the glory to God and God alone, is spurious. Knowing that this does not diminish the necessity for diligence on our part, for if there is no desire to do his will, His Spirit is not working in us to will and do. As Paul said,
"For if I preach the gospel, I have nothing to boast of, for necessity is laid upon me; yes, woe is me if I do not preach the gospel!" (1 Cor. 9:16) (emphasis added).
His diligence came by the influence of the Spirit to lay hold of that which had laid hold of him. It is not so much a matter of us giving our hearts to Christ, for the gift of grace is a new heart from God to us. "I will take away your stony heart and give you a heart of flesh." "The heart of flesh is a tender heart, susceptible to the drawing of divine grace. The fruit of this renewal of heart is walking in the commandments of the Lord; and the consequence of the latter is the perfect realization of the covenant relation, true fellowship with the Lord God" (Keil and Delitzsch). God gives us a heart for Himself and that heart results in a thoroughly changed life. And even as those in Adam will inevitably grow more and more corrupt by the influence of the seed of Adam, those born in Christ will inevitably grow in greater righteousness because of the influence of the seed of Christ (Rom. 6:19; 1 John 3:10). The very term "born again" implies that of a whole new life. When Christ becomes our Master and Lord it is not the end of sin, but the beginning of a life long struggle against sin as the light of His word continually exposes our sin. This is the process of sanctification. Spurgeon, speaking on sanctification said:
Holiness is always present in those who are loyal guests of the great King, for 'without holiness no man shall see the Lord.' Too many professors pacify themselves with the idea that they possess imputed righteousness, while they are indifferent to the sanctifying work of the Spirit. They refuse to put on the garment of obedience, they reject the white linen which is the righteous acts of the saints. They thus reveal their self-will, their enmity to God, and their non-submission to His Son. Such men talk such as they will about justification by faith, and salvation by grace, but they are rebels at heart, they have not on the wedding dress any more than the self-righteous, whom they so eagerly condemn. The fact is, if we wish for the blessings of grace, we must in our hearts submit to the rules of grace without picking and choosing.14
Charles Hodge sums it up perfectly. He writes:
True Christians are renewed after the image of God so as to be holy; they love God, they rest with complacency on his perfections, they acquiesce in his will, and rejoice in their relation to him as his creatures and children. They are habitually devout, and have fellowship with the Father of their spirits, and with Jesus Christ his Son. They are obedient children, not fashioning themselves according to their former lusts; but as he that called them is holy, so are they holy in all manner of conversation (conduct). As they bear the image of a just and merciful God, they are honest and benevolent towards their fellow men, not seeking their own, but the good of others. And as this victory over themselves and this conformity to the image of God cannot be obtained without conflict and self-denial, they keep up a constant opposition to the more subtle evils of the heart....Some may be ready to say, that if this is religion, then no man is religious. It is certainly true, that 'many are called, but few chosen.' 'Strait is the gate, and narrow is the way, which leadeth unto life, and few there be that find it.' (Mt. 7.14) We must take our idea of religion from the Bible, and not from the lives of professors. It cannot be denied that the Bible makes religion to consist in love to God and man; nor can it be questioned that the love of God will manifest itself in reverence, devotion, and obedience, and the love of men in benevolence and justice. And our own conscience tells us, that no external forms, no outward professions, no assiduity in religious services, can entitle us to the character of Christians, unless we are thus devout and obedient towards God, thus just and benevolent towards our fellow men, and thus pure and self-denying as regards ourselves. But while it is certain that these traits are all essential to the Christian character, it is not asserted that all Christians are alike. There is as great diversity in their characters as Christians, as in their bodily appearance, their mental powers, or social dispositions. But as all men, in the midst of this endless variety, have the same features, the same mental faculties, and the same social affections; so all Christians, however they may differ in the strength or combination of the Christian graces, are all led by the Spirit, and all produce the fruits of the Spirit...Having given this brief outline of the nature of true religion, it is proper to say a few words as to its necessity. It should be ever borne in mind, that the necessity of holiness is absolute. With regard to other things, some, though desirable, are not essential, and others, though essential under ordinary circumstances, are not universally and absolutely necessary. But holiness is necessary in such a sense that salvation, without it, is impossible, because salvation principally consists in this very transformation of the heart. Jesus is a Savior, because he saves his people from their sins. Those, therefore, who are not sanctified, are not saved. The doctrine, that a man may live in sin, and still be in a state of salvation, is as much a contradiction, as to say that a man may be ill when in health. A state of salvation is a state of holiness. The two things are inseparable; because salvation is not mere redemption from the penalty of sin, but deliverance from its power. It is freedom from bondage to the appetites of the body and the evil passions of the heart; it is an introduction into the favor and fellowship of God; the restoration of the Divine image to the soul, so that it loves God and delights in his service. Salvation, therefore, is always begun on earth. 'Verily, verily, I say unto you, He that believeth on me hath everlasting life' (John 6.47). This is the language of our Savior. 'To be spiritually minded is life:—to be carnally minded is death.' (Rom. 8:6) There is no delusion more inexcusable, because none is more directly opposed to every doctrine of the Bible, than the idea that a state of grace is consistent with a life of sin. Without holiness no man can see God (Heb. 12.14). Whatever our ecclesiastical connections may be, whatever our privileges or professions, if we are not holy in heart and life; if we are not habitually governed by a regard to the will of God; if we do not delight in communion with him, and desire conformity to his image; if we are not led by the Spirit, and do not exhibit the love, joy, peace, long suffering, gentleness, goodness, faith, meekness, and temperance which that Spirit always produces—then we are not religious men, nor are we in a state of salvation....The Bible knows nothing of proud, selfish, covetous, impure Christians. Christians are partakers of a holy calling, they are washed, and sanctified, and justified in the name of the Lord Jesus, and by the Spirit of our God; they are saints, the sanctified in Christ Jesus; they mind spiritual things; they have crucified the flesh with its affections and lusts; they are poor in spirit, meek, pure in heart, merciful; they hunger and thirst after righteousness. Not that they have already apprehended, or are already perfect; but they follow after, if that they may apprehend that for which they are also apprehended of Christ Jesus; forgetting the things that are behind, and reaching forth unto those things which are before, they press toward the mark for the prize of the high calling of God in Christ Jesus. Their conversation is in heaven; from whence also they look for the Savior, the Lord Jesus Christ, 'who shall change our vile body, that it may be fashioned like unto his glorious body, according to the working whereby he is able even to subdue all things unto himself' (Phil. 3:12-14, 20, 21)15 (emphasis added).
CHAPTER SIX
We Walk By Faith Not By Sight

---
---

Comments
No comments yet.
Add Comment
Powered by Commentics
Footnotes
1. J.C. Ryle, Holiness (Darlington, England: Evangelical Press, 1879: Reprinted 1993), p.17
2. D. Martyn Lloyd-Jones Romans 7:1-8:4 (Grand Rapids: Zondervan,1973) p.348
3. A. W. Pink, Gleanings in Exodus (Sovereign Grace Publishers, Inc., June 26, 2009) p. 118
4. Calvin's Commentaries, translated by John Owen, volume XX11(Grand Rapids: Baker House, 1979), p.213-14
5. Ian Murray, The Forgotten Spurgeon (Banner of Truth, 1986)
6. Charles Hodge, "2 Corinthians" (2 Cor. 3:18) (Albany, N.Y.: Sage Digital Library, 1996)
7. Oswald Chambers: "My Utmost for His Highest", Feb. 8th
8. John Calvin, Institutes of the Christian Religion, (Albany, N.Y.: Sage Digital Library, 1996) p.358
9. The I.V.P. Bible Background Commentary N.T., Craig Keener, (I.V.Press, 1993), p.595
10. New International Dictionary of N.T. Theology, Edited by Colin Brown (Zondervan) 1986
11. John Owen, The Faith of God's Elect (Albany, N.Y.: Sage Digital Library, 1996) p.44
12. Charles Hodge, Holy Living
13. Charles Hadden Spurgeon, Qouting Spurgeon (Grand Rapids: Baker Books, 1994), p.150
14. Charles Hadden Spurgeon, Quoting Spurgeon (Grand Rapids: Baker Books, 1994)
15. Charles Hodge, Holy Living