Clinging to a Counterfeit Cross
Grk/Heb Fonts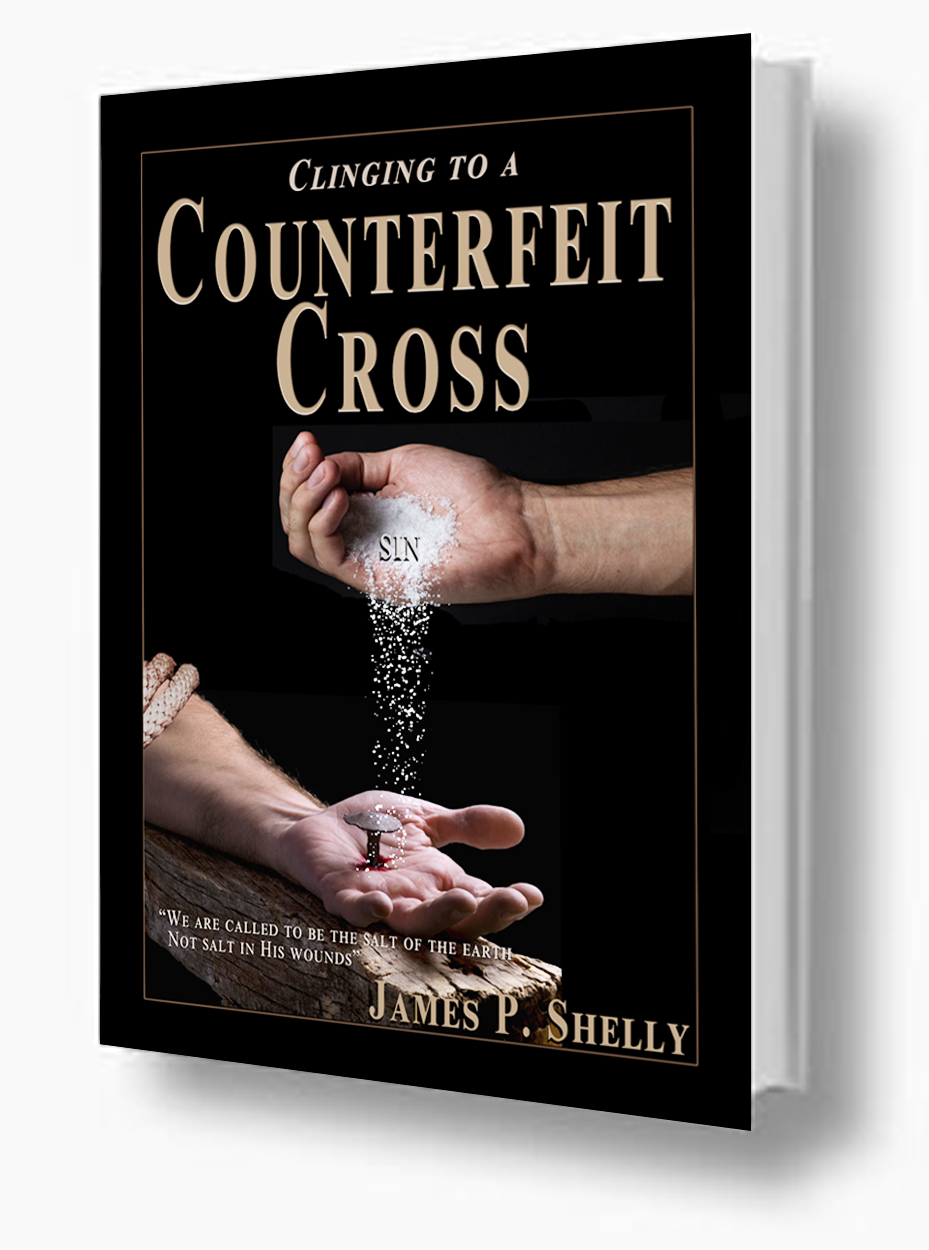 by James P. Shelly
CHAPTER ONE
The Enormity of the Error of Perverting the Gospel
The Apostle Paul writes in 1 Timothy 2:4 that God "desires all people to be saved and to come to the knowledge of the truth." Here, Paul says that salvation comes only through "The knowledge of the truth." Coming to the knowledge of a half-truth or truth mixed with error will not suffice. Therefore, if the salvation of men's souls are of any concern to the believer, and love demands that it be so, then we cannot innocently stand by and allow for error in relation to the integrity of the Gospel. It was certainly uppermost in the minds of the early Church as much is written in the New Testament to warn of those who would seek to pervert it. They understood that the only means whereby a man's eternal soul can be saved must be preserved in its purity no matter the cost and must be zealously and carefully guarded as the priceless possession it is. Anyone who would corrupt the only hope of mankind, knowingly or in ignorance, commits an offense against God and humanity of such enormity that it is without parallel. The Apostle Paul understood this in a very personal way as he himself sought to sabotage the Gospel before his conversion and even though he did it in ignorance (1 Tim. 1:13) he recognized it as the chief of all sins and therefore himself the chief of sinners (1 Tim. 1:15). The Apostles went to great pains with relentless suffering and persecution to preserve the unadulterated truth of the Gospel and therefore when we as Christians complacently and idly stand by and tolerate its corruption, allowing the erosion of that which cost so much affliction, and tireless labor, ignoring the clear exhortations of Scripture to the contrary, is, to say the least, utterly shameful. It is written in Jude v. 3, 4,
"Beloved, while I was very diligent to write to you concerning our common salvation, I found it necessary to write to you exhorting you to contend earnestly for the faith which was once for all delivered to the saints. For certain men have crept in unnoticed, who long ago were marked out for this condemnation, ungodly men, who turn the grace of our God into lewdness and deny the only Lord God and our Lord Jesus Christ."
The Apostle John writes,
"Whosoever transgresses and does not abide in the doctrine of Christ does not have God. He who abides in the doctrine of Christ has both the Father and the Son. If anyone comes to you and does not bring this doctrine, do not receive him into your house nor greet him; for he who greets him shares in his evil deeds" (2 John 10, 11).
Paul writes,
"I marvel that you are turning away so soon from Him who called you in the grace of Christ, to a different gospel, which is not another; but there are some who trouble you and want to pervert the gospel of Christ. But even if we, or an angel from heaven, preach any other gospel to you than what we have preached to you, let him be accursed. As we have said before, so now I say again, if anyone preaches any other gospel to you than what you have received, let him be accursed." (Gal. 1:6-9)
So then, when it comes to error concerning the Gospel to simply "agree to disagree" in the name of love, fellowship, and peace, in fear of being divisive, narrow minded, intolerant, or unpopular, reveals such shallowness of thought that those who have the mind of Christ (1 Cor. 2:16) should find it repugnant and ought not to fall prey to such superficial thinking. It is literally the opposite of biblical love, fellowship, and peace. True love, fellowship, and peace can only be found within the confines of truth. For "what fellowship does light have with darkness"? (2 Cor. 6:14) If love, according to 1 Corinthians 13:6, "rejoices in the truth" then it naturally follows that it must be distressed with error. It says in Romans 13:10 that "Love does no harm to a neighbor" and surely no greater harm can come to our neighbor than error concerning the Gospel and that which puts a stumbling block in the narrow way which leads to life. Therefore, biblical love, at its very core, is passionately opposed to error and particularly so when it comes to that which results in eternal condemnation. In Scripture, error and falsehood is always associated with the wicked, as is love and truth with the righteous. "You therefore, beloved, since you know this beforehand, beware lest you also fall from your own steadfastness, being led away with the error of the wicked;" (2 Peter 3:17). God warns against the false teachers that say, "'Peace, peace!' When there is no peace" (Jer. 6:14) and "Woe to you when all men speak well of you, For so did their fathers to the false prophets" (Luke 6:26).
Christ made it plain that the true gospel would be a cause of division. He says in Luke 12:51-53,
"Do you suppose that I came to give peace on earth? I tell you, not at all, but rather division. For from now on five in one house will be divided: three against two, and two against three. Father will be divided against son and son against father, mother against daughter and daughter against mother, mother-in-law against her daughter-in-law and daughter-in-law against her mother-in-law."
In other words Jesus says that the truth of the Gospel is and always will be divisive. Not because God is not a God of peace but rather because of the innate malevolence in man. For everyone practicing evil hates the light and does not come to the light, lest his deeds should be exposed (John 3:20). The light of truth and righteousness can never be at peace with the darkness of falsehood and sin. However, among those who have come to the knowledge of the truth of the Gospel it is no longer to be a cause of division. Paul says in 1 Corinthians 1:10, "Now I plead with you, brethren, by the name of our Lord Jesus Christ, that you all speak the same thing, and that there be no divisions among you, but that you be perfectly joined together in the same mind and in the same judgment," and in Ephesians 4:1-6, "I, therefore, the prisoner of the Lord, beseech you to walk worthy of the calling with which you were called, with all lowliness and gentleness, with longsuffering, bearing with one another in love, endeavoring to keep the unity of the Spirit in the bond of peace. There is one body and one Spirit, just as you were called in one hope of your calling; one Lord, one faith, one baptism; one God and Father of all, who is above all, and through all, and in you all." As much as Paul sought unity within the body of Christ he drew a clear line of distinction when it came to the essentials of the Gospel. Non-essential truths of the Gospel are of such consequence as warrant vigorous debate while we can still maintain peace, however, truth in connection with a person's ultimate destiny is of such consequence that it must be argued without compromise and unyielding fervor, severing Christian fellowship if necessary with any and all who stand opposed. Again, he says, if anyone preaches any other gospel to you than what you have received, let him be accursed. We cannot compromise when it comes to the single most critical issue of mans existence, for the loss of the soul is not only that which is irretrievable, but the extent of such loss is so dire that it goes beyond the bounds of our ability to fully conceive, as we are limited by our finite nature.
Paul says in Romans 16:17, "Now I urge you, brethren, note those who cause divisions and offenses, contrary to the doctrine which you learned, and avoid them." When Paul speaks of the doctrine which you learned he speaks of a teaching that was to be received and established with no room for variation or negotiation. The Church is to be "of one mind," not through compromise, but in full agreement with "the knowledge of the truth;" In other words, those who cause divisions and offenses are not those who rigidly uphold the truth of the Gospel and are unwilling to compromise but rather those who stray from truth established by Christ and His Apostles. Paul then would vehemently oppose, not only any deviations from the truth of the Gospel, but those as well who would be willing to "go along to get along" at the expense of it being altered in any way.
Jesus says in Matthew 10:28, "…do not fear those who kill the body but cannot kill the soul. But rather fear Him who is able to destroy both soul and body in Hell (grk. Gehenna)." It should be apparent to all who profess a faith in Christ that the loss of our temporal earthly existence is of little consequence in comparison with the loss of the eternal life of the soul. In absence of any hope beyond the grave our life in this present world is reduced to having no more meaning and significance than that of any other living creature. "For people and animals share the same fate—both breathe and both must die. So people have no real advantage over the animals. How meaningless! Both go to the same place—they came from dust and they return to dust" (Eccl. 3:19, 20 NLT). If the grave is the finality of our existence then the rich and poor, the educated and ignorant, the healthy and sick, the young and the old, a man and a dog, will all have this in common; no recollection whatsoever of what their life consisted of and not the slightest sense that it was ever even a reality. Common expressions such as "make the most of your life" or "live life to the fullest" become nothing more than empty rhetoric when if at some point we have no remembrance that we ever existed. How can making the most of a life you have no recollection of ever having occurred have any real significance? Making the world a better place or improving the lives and well-being of others would be nothing more than chasing after the wind. For how can making a better world have any real value when, ultimately, everyone in that world will have no memory of ever having been there? If death is the end of our existence, then whether you married or not, had children, friends, the college you went to, the pleasures you enjoyed, your job promotion, the fame and prominence you may have obtained, the places you traveled to, the music you listened to, the books you read, etc., are nothing more than empty, worthless endeavors, all to no avail when at some point the cognitive and perceptual powers of the mind come to an abrupt end. Remaining forever lifeless and all that came before would be as though it never was. All our thoughts, deeds, experiences, and accomplishments, are then ultimately inconsequential and utterly futile. However, in contrast, in light of the reality of a life that continues beyond the grave, all our thoughts, deeds, experiences, and accomplishments, will have eternal consequence and significance and directly affect, not only our own eternal existence, but that of others. Once the eternal is truly apprehended and grasped with the certainty of its reality, and such is the case with every believer, it becomes entirely irrational to think that it would be possible to afterward be more concerned about our temporal existence with its limited number of years at the expense of life everlasting with an infinite number of years in the presence of God. Thus Jesus says in Matthew 16:26, "For what profit is it to a man if he gains the whole world, and loses his own soul?" So then, the only wise response in light of the reality of eternal life is that anything in the present life that would affect our future life, whether positively or negatively, is to be our chief and primary concern. Making all of life's decisions based on our eternal comfort and well-being in the world to come which Scriptures calls our home, irrespective of the extent to which we must forgo any fleshly and temporal comforts and pleasures in this present world. We would do well, as Christians, to continually ask ourselves, what will be the consequences of the actions and choices I make today a thousand years from now? Will the various activities I involve myself with— entertainments, pleasures, my occupation, various hobbies, what I say and do, what I eat or drink, how I spend my money, etc, add to or detract from my eternal well being when I stand before God? Jesus said in Matthew 12:36, "But I say to you that for every idle word men may speak, they will give account of it in the day of judgment." Therefore it behooves us to guard our hearts, our tongues and to use our time wisely for that which has lasting value. To use our allotted time in pursuit of that which is but temporal and fleeting is not only exceedingly foolish but leaves us guilty before God of being poor stewards of a most precious commodity which He has so graciously bestowed. Paul says, "See then that you walk circumspectly, not as fools but as wise, redeeming the time, because the days are evil. Therefore do not be unwise, but understand what the will of the Lord is" (Eph. 5:15-17). Be wise and make the most of every opportunity to the betterment of your eternal soul, growing in the grace and knowledge of our Lord that we might do all for his good pleasure and delight in any given situation, living daily in agreement with the mind of Christ, "I must be about My Father's business." "Therefore, whether you eat or drink, or whatever you do, do all to the glory of God" (1 Cor. 10:31). James says "For what is your life? It is even a vapor that appears for a little time and then vanishes away" (James 4:14). Therefore it is written,
"Set your mind on things above, not on things on the earth" (Col. 3:2)
"...we do not look at the things which are seen, but at the things which are not seen. For the things which are seen are temporary, but the things which are not seen are eternal" (2 Cor. 4:18).
"Do not lay up for yourselves treasures on earth, where moth and rust destroy and where thieves break in and steal; but lay up for yourselves treasures in heaven, where neither moth nor rust destroys and where thieves do not break in and steal. For where your treasure is, there your heart will be also" (Matt. 6:19-21).
So then, the truth of the gospel of our Lord Jesus Christ, the only way to gain access to eternal life, is not only a truth of vital importance, it is a truth apart from which we are left with nothing of lasting value and thus of no actual value at all. We come to understand then that the truth of the Gospel is the single most critical issue in life because it points to our only everlasting hope which is Christ "the true God and eternal life" (1 John 5:20). Success or failure in this present life will be determined solely by our faith or lack thereof in the doctrines of Jesus Christ.
Invariably, when discussing Scripture we are confronted with the statement, "that's your interpretation." The insinuation is that we cannot know the truth, in any absolute sense, because everyone has their own interpretation of truth. It is certainly true that we are at liberty to interpret the Scriptures in whichever way we prefer, however, we are not at liberty to interpret the "truth" in whichever way we prefer. Truth is by definition "the actual state of things." Abraham Lincoln once asked the question, "How many legs does a dog have if you call the tail a leg?" he answered "Four; calling a tail a leg doesn't make it a leg." Likewise, a misinterpretation of the truth does not alter the actual state of things, but rather gives one a mistaken view as to what the actual state of things are. Furthermore, it is nonsensical to declare that there are no absolute truths because doing so, is in essence, to declare that there is no truth because truth by definition is absolute. So then, the notion that truth is according to one's own preference or to say that there are no absolute truths is, to say the least, foolishness. Rational and coherent thought can never allow for such a senseless proposition. If, for example, one would choose to believe that the earth is flat, we would consider it absurd. We would readily concede that the one who believes so, is without doubt, deceived. Why? Because it would be contrary to the actual state of things. If the earth is round it is so irrespective of how one interprets the scientific data or even in the absence of any scientific data. Likewise, the truth about God is absolute and cannot be altered by a misinterpretation of the Biblical text or that which we find in nature. So then our concern should be, not in that there are many interpretations of the data available to us in reference to God, but whether or not our own interpretation of the data is correct. When we stand before God we will be personally responsible for either our own interpretation or the interpretation we accept through another. What is generally meant when someone says "that's your interpretation" is "I have no interpretation of my own because I have no time or desire to study the Scriptures that I might have the ability to discern whether any interpretation is true or not." Since there are so many differing opinions about God many think this gives them an excuse to throw up their hands and say no one can know the truth in any absolute sense. However this directly contradicts the words of Christ and His entire purpose for coming to this earth. Jesus tells us in John 18:37, "For this cause I was born, and for this cause I have come into the world, that I should bear witness to the truth." To suppose that we cannot know the truth or that there are no absolute truths makes Christ a liar and thus a sinner and unqualified as our redeemer leaving us without hope in the world. He says in John 14:6, "I am the way, and the truth, and the life. No one comes to the Father except through me." Christ was either a deceitful, conniving, deviously wicked man, or He was indeed the sole embodiment of truth itself. Therefore, according to Scripture to seek after truth, is to seek after Christ, the personification of truth. To believe otherwise makes Christ entire ministry on earth a fraud and His doctrine of no ultimate value.
That truth is an uppermost priority in the mind of God is stressed throughout Scripture. It's significance in the life of the believer cannot be overstated. It is said in reference to God's word in Psalm 119:160 that, "The entirety of Your word is truth." God's law is truth (Ps. 119:142). The word of truth is the gospel of our salvation (Eph. 1:13). "God is the Spirit of truth" (1 John 5:6). We are sanctified by His truth. (John 17:17) God desires truth in the inward parts (Ps. 51:6). "God is Spirit, and those who worship Him must worship Him in spirit and truth" (John 4:24). The word must leaves us without option. We must worship Him in truth and this truth is bound up in the person of Christ. He is the Word of truth; the Gospel of truth; the fulfillment of the law in truth; the truth which dwells in our inward parts by the Spirit of truth; which enables us to worship God in spirit and truth; the Truth that sets us free. He who does not come to know Him in truth will most certainly suffer the consequences, namely, eternal damnation "…that they all may be condemned who did not believe the truth but had pleasure in unrighteousness" (2 Thess. 2:12). Note here that it is a contradiction, according to this verse, to "believe the truth" while at the same time having "pleasure in unrighteousness."
It is here that we find the most subtle, and therefore the most dangerous and deceptive teachings. It is through those who profess to accept the authority of Scripture as inspired of God, yet they misinterpret, misquote, and twist their true meaning (2 Pet. 3:16). We are all guilty of an honest misunderstanding of Scripture at times, however, with the false teacher it is characteristic. Even as Satan is referred to in Scripture as "the father of lies," his children, the false teachers, take on the same attribute (John 8:44), even though they themselves may be entirely unaware of their true spiritual state (John 8:39).
Scripture tells us that many worship God, but they do so in vain. "These people draw near to Me with their mouth, and honor Me with their lips, but their heart is far from Me, and in vain they worship Me, teaching as doctrines the commandments of men" (Matt. 15:8, 9). We understand then, that it is not enough that we would worship God. For according to this passage, even if it is the God of Scripture we worship, if we do not do so "in Spirit and truth," "according to the doctrine of Christ" we worship Him in vain. For we find in this passage that God is not referring to those idolatrous souls who openly seek after other gods, but rather He says, they worship "Me" in vain. With their mouth, they draw near to God in His proper Name, but it is in name only. They distance themselves from true doctrine and holdfast to the doctrines, traditions, and commandments of men. Whosoever does not draw near to the Word in truth, is one whose heart is far from God. God has revealed His person and character through His Word, and there can be no true relationship with the person of God without a growing understanding and knowledge of the Word of God. Moses speaking of Jesus said, "The Lord God will raise up for you a prophet like me from your brothers. You shall listen to him in whatever he tells you" (Acts 3:22). It is only through the Scriptures that we are able to listen to what Christ tells us and therefore to profess to be followers of Christ while remaining ignorant of the Scriptures and the doctrines of Christ is a contradiction in terms. For how can we follow the teachings of Christ without knowing what He taught? We must embrace the doctrine of Christ, if we are to embrace the person of Christ. The Christian life is not defined by one's opinion, feelings, emotions, or philosophical insights, but by the teachings of Christ, the founder of the faith. Charles Spurgeon wrote:
We cannot separate Christ from His Word. In the first place, He is the Word. In the next place, how dare we call Him Master and Lord and not do the things that He says, rejecting the truth He teaches? We must obey His precepts or He will not accept us as disciples; especially that precept of love that is the essence of all His words. We must love God and our brethren. We must cherish love to all men and seek their good. Anger and malice must be far from us. We must walk even as He walked. If Christ's words do not abide in you—both as belief and practice—you are not in Christ. Christ and His gospel and His commands are one. If you will not have Christ and His words, neither will he have you or your words. 1
Some suppose that if doctrine is not presented in such a way that makes it simple and easy to understand without thoughtful reflection and deliberation it deviates from the "simplicity that is in Christ" (2 Cor. 11:3). However, this notion is unwarranted, as F. W. Robertson states,
'The simplicity of the gospel,' is constantly mistaken. People suppose simplicity means what a child or ploughman can understand. Now, if this be simplicity, evidently the simplicity of the gospel was corrupted by Paul himself; for he is not simple. Who understands his deep writings? Does one in a thousand? St. Peter says there are things hard to be understood in St Paul's Epistles. We often hear it alleged as a charge against a book, a lecture, or a sermon, that it is not simple. If we are told that what we are to preach must be on a level of the most inferior intellect, so that without attention or thought it may be plain to all, we are bound to disclaim any obligation to do this; if it is supposed that the mysteries of God, of which we are the stewards, can be as easy of comprehension as an article in a newspaper or a novel, we say that such simplicity can only be attained by shallowness. 'Simple' means, according to St. Paul, unmixed or unadulterated. 2
J.C. Ryle whom Spurgeon called "the best man in the Church of England" wrote:
The times require distinct and decided views of Christian doctrine. I cannot withhold my conviction that the professing Church is as much damaged by laxity and indistinctness about matters of doctrine within, as it is by skeptics and unbelievers without. Myriads of professing Christians nowadays seem utterly unable to distinguish things that differ. Like people afflicted with color-blindness, they are incapable of discerning what is true and what is false, what is sound and what is unsound. If a preacher of religion is only clever and eloquent and earnest, they appear to think he is all right, however strange and heterogeneous his sermons may be. They are destitute of spiritual sense, apparently, and cannot detect error. The only positive thing about them is that they dislike distinctiveness and think all extreme and decided and positive views are very naughty and very wrong!.. These people live in a kind of mist or fog. They see things unclearly, and do not know what they believe. They have not made up their minds about any great point in the Gospel, and seem content to be honorary members of all schools of thought. For their lives they could not tell you what they think is truth about justification, or regeneration, or sanctification, or the Lord's Supper, or baptism, or faith or conversion, or inspiration, or the future state. They are eaten up with a morbid dread of controversy and an ignorant dislike of party spirit; and yet they really cannot define what they mean by these phrases. And so they live on undecided; and too often undecided; they drift down to the grave, without comfort in their religion, and, I am afraid, often without hope....Now I do beseech all to beware of this undecided state of mind in religion. It is a pestilence which walketh in darkness, and a destruction that wasteth at noonday. It is a lazy, idle frame of soul which, doubtless, saves man the trouble of thought and investigation but it is a frame of soul for which there is no warrant in the Bible. For your own soul's sake, dare to make up your mind what you believe, and dare to have positive, distinct views of truth and error. Never, never be afraid to hold decided doctrinal opinions; and let no fear of man and no morbid dread of being thought party-spirited, narrow, or controversial, make you rest contented with a bloodless, boneless, tasteless, colorless, lukewarm, undogmatic Christianity. 3
When the Apostle Paul preached to the Bereans, he states that they were more noble than those in Thessalonica, "in that they received the word with all readiness, and searched the scriptures daily to find out whether these things were so" (Acts 17:11). Paul commends the people, as any good teacher does, for confirming by Scripture whatever was taught them. If scrutinizing the teaching of the Apostle Paul was commendable how much more so any modern day teacher regardless of his fame, status, position, or popularity. It is a noble task and essential to the well being of the soul that we search the Scriptures daily to find out if the teachings of those who profess to represent God, are indeed representing Him by proclaiming the truth according to His revelation. If we are serious in our desire for truth, it will not be enough that we simply read the Word, but that we study its pages considering it as the priceless possession it is. Having no other motive but that of understanding the intended meaning of the words written therein, that it might be applied to our hearts for the glory and good pleasure of God. God's word is more abundantly available to this generation than any generation in history. We have been exceedingly blessed even to surpass those followers of Christ in His earthly ministry. For they had only their ears to hear the truth as it came forth from His lips. However, we have available to us the complete inspired revelation of God in the Scriptures. The God-breathed teachings of the Prophets, Christ, and the Apostles in one orderly collection of writings. We can study the words that Christ spoke by searching, reflecting, and meditating upon them at our own convenience. With modern technology, we can study God's Word in a way that past generations could only dream of. We have more devotionals, commentaries, various writings, and teachings on Scripture than in any other age. Although much of what is written has aided in perpetuating error, the truth of God's word is nonetheless readily available to anyone who seeks it. Scripture tells us to whom much is given, much will be expected (Luke 12:48). May God have mercy on us when such privileges are being shamefully neglected. Sad to say many Churchgoers have trampled underfoot the doctrines of Christ and notwithstanding the deluge of biblical writings available to the Church the result has been a flood of error and deception. Christ says in John 4:23, "But the hour is coming, and now is, when the true worshippers will worship the Father in spirit and in truth: for the Father is seeking such to worship him." Here we find what Scripture calls "true worshippers" and therefore by implication "false worshippers." The question whereof all professors of the religion must come to terms is under which category do we find ourselves?
In the book of Revelation, when Jesus spoke to the various Churches (Rev. Chapters 1-3), He taught a vital principle; most often the soul, individually, takes on the characteristics of the body to which it is attached, bearing the consequences thereof. It is evident that irrespective of the means by which the errors were being propagated in the various Churches, Christ held every individual personally responsible for their doctrinal beliefs and practices. Christ rebuked each Church for any deviations and defections from the truth with stern warnings if they did not repent. To the Church at Sardis Christ says, "You have a few names even in Sardis who have not defiled their garments; and they shall walk with Me in white, for they are worthy. He who overcomes shall be clothed in white garments, and I will not blot out his name from the Book of Life" (Rev. 3:4, 5). There were a few that did not allow themselves to be defiled by the error and corruption of the majority in Sardis and therefore their names alone were considered worthy of remaining in the Book of Life. In Rev. 3:17 Christ says to the lukewarm Church in Laodicea "...you say 'I am rich, wealthy, and in need of nothing, and do not know that you are wretched, miserable, poor, blind, and naked." In other words, Christ says, you are self-deceived and it would appear as though you are entirely unaware of it. You are the exact opposite of what you imagine yourselves to be. This is a chilling statement. Surely, if men were cognizant that they were in such a Church they would flee for their lives. However, because of the blindness of those who lead them, and the "deceitfulness of sin" their own eyes are blinded from seeing their true spiritual condition. As David Clarkson well said, "Satan blinds one eye and self love closes the other, and the deceitfulness of sin seals both, and thus they assure themselves that they are on the way to heaven when they are on the high road to hell." 4 If those who lead are blind, then so it is with those who follow after them, and in the last Day both will find themselves in the ditch of everlasting darkness (Matt. 15:14). If a ruler listens to falsehood, all his officials will be wicked (Prov. 29:12). The only remedy being the "eye salve" of God's Word, which when applied to the eyes by the Spirit will heal them of their blindness that they might see the truth in Christ (Rev. 3:18).
Scripture states, "But there were false prophets among the people, even as there will be false teachers among you, who secretly bring in destructive heresies, even denying the Lord who bought them, and bring on them swift destruction" (2 Peter 2:1). The warning in this passage is not of false teachers outside the Church, but those that rise up from within. How are heresies brought in secretly and without notice? Through ignorance, indolence, idleness and complacency on the part of the people. Scripture warns us continually of such teachings and it is imperative that we would take heed of its counsel:
Matthew 7:15, "Beware of false prophets, who come to you in sheep's clothing but inwardly are ravenous wolves."
Matthew 24:11, "And many false prophets will arise and lead many astray."
Matthew 24:24, "For false christs and false prophets will arise and perform great signs and wonders, so as to lead astray, if possible, even the elect."
2 Corinthians 11:13, "For such men are false apostles, deceitful workmen, disguising themselves as apostles of Christ."
1 John 4:1, Beloved, do not believe every spirit, but test the spirits to see whether they are from God, for many false prophets have gone out into the world.
How do we test the spirits to see whether they are from God? By searching the Scriptures daily to find out whether or not their teaching and walk line up with the Word of God.
Arthur W. Pink, wrote,
The apostles of Satan are not saloon-keepers and white-slave traffickers, but are for the most part ordained ministers...In addition to the fact that today hundreds of churches are without a leader who faithfully declares the whole counsel of God and presents His way of salvation, we also have to face the additional fact that the majority of people in these churches are very unlikely to learn the Truth for themselves. …The Bible is not expounded in the pulpit and it is not read in the pew. The demands of this rushing age are so numerous, that the multitudes have little time and still less inclination to make preparation for the meeting with God. Hence the majority who are too indolent to search for themselves, are left at the mercy of those whom they pay to search for them; many of whom betray their trust by studying and expounding economic and social problems rather than the Oracles of God. 5
He further writes:
Never were there so many millions of nominal Christians on the earth as there are today, and never were there such a small percentage of real ones. Not since before the days of Luther and Calvin, when the great Reformation effected such a grand change for the better, has Christendom been so crowded with those who have 'a form of godliness' but who are strangers to its transforming power. We seriously doubt whether there has ever been a time in the history of this Christian era when there were such multitudes of deceived souls within the churches, who verily believe that all is well with their souls when in fact the wrath of God abideth on them. 6
David Wells, in his book, "No Place For Truth," writes:
We need reformation rather than revival. The habits of the modern world, now so ubiquitous in the evangelical world, need to be put to death, not given new life. They need to be rooted out, not simply papered over with fresh religious enthusiasm. And they are at this point so invincible that nothing less than the intrusion of God in His grace, nothing less than a full recovery of his truth will suffice7 (emphasis added).
People's perception of the holiness of God has diminished so severely in this day that the fear of God has become relatively non-existent. The face of God has been marred, the character of God perverted, the body of Christ crippled, and the multitudes have been deluded into believing a false Gospel. Inasmuch as a man's heart aches with compassion over the grief of a parents loss of a child, or over any number of sorrows which are common to life, how much more so should the Christian sorrow over vital error in the Church causing multitudes to die, not a mere physical death, but an eternal death with no hope of recovery. We think of a child molester as among the most wicked of men, yet we seem to have little concern for the spiritual molestation of our children's souls. We are either too complacent and thereby ignorant of many of the damning errors facing the Church or too cowardly to take a stand against them. It is time that professors put on the character of Christ and His Apostles, loving God and neighbor enough to refute such errors that, if not corrected, will keep countless souls from ever entering the kingdom of God.
J.C. Ryle writes:
If we would hold fast that which is good, we must never tolerate or support any doctrine which is not the pure doctrine of Christ's Gospel. There is a hatred which is downright charity – that is the hatred of erroneous doctrine. There is an intolerance which is downright praiseworthy – that is the intolerance of false teaching in the pulpit. Who would ever think of tolerating a little poison given to them day by day? If men come among you who do not preach "all the counsel of God," who do not preach of Christ, sin, holiness, of ruin, redemption, and regeneration, and do not preach of these things in a Scriptural way, you ought to cease to hear them.8
Let us be able to say with the Apostle Paul, "For we cannot do anything against the truth, but only for the truth" (2 Cor. 13:8) having the heart of the Apostle John in saying, "I have no greater joy than to hear that my children are walking in the truth" (3 John 4).
"The Lord is near to all who call upon Him, To all who call upon Him in truth" (Psalm 145:18) (emphasis added).
CHAPTER TWO
The Biblical Terms of Salvation vs. Modern Day Misconceptions

---
---

Comments
(1)
Topic
:
The Enormity of the Error of Perverting the Gospel
Robert Munyui Kamunyu
says...
Tithing was under and is under the law with a curse for Christians seeking salvation under the law, Galatians 3:3-13, Malachi 3:1-18. When pastors and priest lie by quoting Malachi 3:1-18,under the law IN OLD COVENANT, how many Christians line up to be served with food when tithes and offering under the law are given? Is the storehouse pastors' and priests' house or the Church being the body of Christ? Saved Christians by grace IN NEW COVENANT who are lead and taught by the Holy Spirit are not under law or in curse in the law. Those who simply imply Christians are under curse for not tithing put into question about unfinished work of redemption (SALVATION) by Christ Jesus on cross of Calvary which is bought and maintained continuously in tithes paid to them. Yet Christ is not ashamed to call us brethren whom He has sanctified. Hebrew 2:9-13.We have been redeemed from the curse of the law, Christ being made a curse for us : for it is written, cursed is everyone that hangs on a
... Read More
4th August 2015 9:55am
RSS Alerts
Add Comment
Powered by Commentics
Footnotes
1. C.H. Spurgeon "The Power of Prayer in a Believer's Life" EmeraldBooks p.40
2. The Pulpit Commentary, 2 Cor. 11:2 (Edited by Spence and Exell: Hendrickson), p287
3. A Sermon by J.C. Ryle entitled, "The Danger of Christian Complacency"
4. The Practical Works of David Clarkson https://books.google.com/books p. 213
5. Arthur W. Pink, Sermon On the Mount (Grand Rapids: Baker House, 1950, 53)
6. Arthur W. Pink, Sermon On the Mount (Grand Rapids: Baker House, 1950, 53), p. 377
7. David F. Wells, No Place For Truth (Grand Rapids: Eerdmans, 1993), p. 301
8. J.C. Ryle, Knots Untied, "Private Judgment" (Cambridge, England: James Clarke & Co., 1977), p. 44.