Mere Christianity
Grk/Heb Fonts

PDF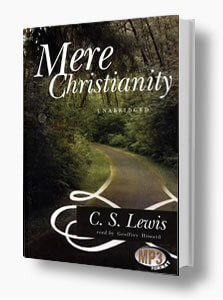 by C. S. Lewis
Born in Ireland in 1898, C. S. Lewis was educated at Malvern College for a year and then privately. He gained a triple first at Oxford and was a Fellow and Tutor at Magdalen College 1925-54. In 1954 he became Professor of Mediaeval and Renaissance Literature at Cambridge. He was an outstanding and popular lecturer and had a lasting influence on his pupils.
C. S. Lewis was for many years an atheist, and described his conversion in Surprised by Joy: 'In the Trinity term of 1929 I gave in, and admitted that God was God ... perhaps the most dejected and reluctant convert in all England.' It was this experience that helped him to understand not only apathy but active unwillingness to accept religion, and, as a Christian writer, gifted with an exceptionally brilliant and logical mind and a lucid, lively style, he was without peer.
In 1943 Great Britain, when hope and the moral fabric of society were threatened by the relentless inhumanity of global war, an Oxford don was invited to give a series of radio lectures addressing the central issues of Christianity. Over half a century after the original lectures, the topic retains it urgency. Expanded into book form, Mere Christianity never flinches as it sets out a rational basis for Christianity and builds an edifice of compassionate morality atop this foundation. As Mr. Lewis clearly demonstrates, Christianity is not a religion of flitting angels and blind faith, but of free will, an innate sense of justice and the grace of God.
TABLE OF CONTENTS

---
---

Comments (38)
Topic: Mere Christianity by C. S. Lewis
Sort
David Richardson
says...
RE: Kieran YOU SAY: Morals "exist ONLY in the brain. They are abstract reactions influenced by genetic makeup and external interpretation." You have equated abstract moral principles with brain states. Brain states exist, and so do abstract moral principles. No technology exists, however, to equate the two. Are you affirming this view on faith? The materialistic view requires that those things people have regarded as immaterial be reduced to materialistic factors (energy and matter). This includes ideas and emotions. The love of wife and children is simply a bio-electric function of the brain. So is one's belief in the doctrines of materialism. In fact, so is one belief in logic and reason. That creates a problem. Tell me, to what materialistic processes do the rules of logic reduce? Is the law of non-contradiction simply in the mind or is it part of the world. If the former, then why are you attempting to argue this point at all. Perhaps you are materialistically
... Read More
6th January 2017 9:37am
Kieran
says...
Just be aware I am questioning Christianity.... NOT Christians as fellow human beings. Spirituality helps a hell of a lot of people get though life. Better be Christians than doped up on antidepressants.Much like I don't drink alcohol and I can argue against it, but I don't think people who drink it are bad people at all and they have every right to enjoy themselves.
8th December 2014 12:26pm
jaybird
says...
Accident or Planned
I ask myself is this a planned organized universe world creation or is this an accident I came to the conclusion it is a planned creation if the creation is planned and has design features who was the planner or designer only God comes to mind. Then i must investigate God we call that religion so i investigated religions many of them Christianity is the only one I found that completely answers all my questions with any real plausibility in my mind it does all come down to a personal decision I thank God for Jesus he paid it all for a morally bankrupt sinner as myself.
8th December 2014 12:27pm
Neil
says...
I respectfully disagree with the person who wrote, "Morals, kindness, conservatism come from the individual human being and to claim god has anything to do with it is just selling humanity short. I'd rather at least try to be intellectual than rely on god to do it for me. Humans decide the difference between right and wrong and good and evil and to claim these things are just items that grow on a tree we are forbidden to eat from is just...ridiculous!" History proves that sentiment wrong. For the most part, humans have shown themselves to be selfish, self-centered, and ruthless to others. The pervading paradigm of human history is one driven by survival. If you have what I (or my tribe) want and need, we will take it from you. We will take your land, your livestock, your gold, your women, your lives. The Vikings, the Goths, the Romans, you name it, all thought only of themselves, and to hell with anyone else (unless they could be of help). What is good or evil to one
... Read More
8th December 2014 12:30pm
Christian
says...
CS LewisChristianity is about humans becoming born again and cleansed of their sins and abstaining from sin. Unless a man is born again he cannot see the kingdom of GOD (John 3:3). Both CS Lewis and Tolkien have ties to witchcraft, this shouldn't be surprising as England is home to the most pure form of witchcraft teaching on earth and the home of the Illuminati. The fact that CS Lewis is lifted high in this modern world and by Hollywood will show any real Biblically astute Christian that he can not be of GOD, he is of the god of this world...Lucifer/Satan
8th December 2014 12:35pm
George
says...
If all Lewis ever wrote was "Mere Christianity" his contribution to his fellow man would have surpassed the aspirations of most authors because in it he opens the door and invites those in who are seekers of fundamental truth without the trappings. Christ claimed that HE was that Door. Read this simple book and decide for yourself. "God is light and in him is no darkness."
8th December 2014 12:36pm
Momo
says...
It is no wonder that Christians should revere a miracle-working carpenter:I think one must be the son of a god to build an attic before the rest of the house. feliz aniversario
8th December 2014 12:37pm
Jack Orr
says...
I became interested in C. S Lewis by an article about him in the Pittsburgh Post Gazette.
8th December 2014 12:38pm
Mike Donohue
says...
Lewis takes great lengths to show innate to humans is an ideal which is always absent...something mysteriously lost. Man remains an animal devoid of all personal ethics under any drive for survival.
8th December 2014 12:39pm
Linda Kay Hutcherson
says...
I thank God for C.S. Lewis. Like many other one time rabid atheists, God shows His Glory through these people- just like the Apostle Paul who "saw the light" on the road to Damascus.As for these non-believers who use their God-given intellect to deny Him, I can only quote The Bible --- "Only a Fool Says there is no God."
8th December 2014 12:42pm
RSS Alerts
Page 2 of 4
Add Comment
Powered by Commentics