Mere Christianity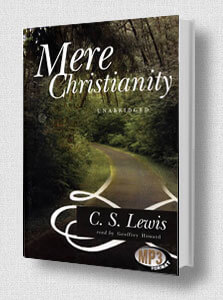 by C. S. Lewis
Born in Ireland in 1898, C. S. Lewis was educated at Malvern College for a year and then privately. He gained a triple first at Oxford and was a Fellow and Tutor at Magdalen College 1925-54. In 1954 he became Professor of Mediaeval and Renaissance Literature at Cambridge. He was an outstanding and popular lecturer and had a lasting influence on his pupils.
C. S. Lewis was for many years an atheist, and described his conversion in Surprised by Joy: 'In the Trinity term of 1929 I gave in, and admitted that God was God ... perhaps the most dejected and reluctant convert in all England.' It was this experience that helped him to understand not only apathy but active unwillingness to accept religion, and, as a Christian writer, gifted with an exceptionally brilliant and logical mind and a lucid, lively style, he was without peer.
In 1943 Great Britain, when hope and the moral fabric of society were threatened by the relentless inhumanity of global war, an Oxford don was invited to give a series of radio lectures addressing the central issues of Christianity. Over half a century after the original lectures, the topic retains it urgency. Expanded into book form, Mere Christianity never flinches as it sets out a rational basis for Christianity and builds an edifice of compassionate morality atop this foundation. As Mr. Lewis clearly demonstrates, Christianity is not a religion of flitting angels and blind faith, but of free will, an innate sense of justice and the grace of God.
---

Comments
This comment form is powered by GentleSource Comment Script. It can be included in PHP or HTML files and allows visitors to leave comments on the website.