THE PAROUSIA
Grk/Heb Fonts

PDF

A Careful Look at Our Lord's Second Coming
By James Stuart Russell, M.A., D.Div.
NOTE: Audio files are under construction.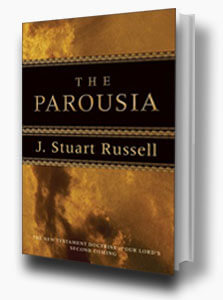 Critical Reviews of the Parousia:
"I believe that Russell's work is one of the most important treatments on Biblical eschatology that is available to the church today. The issues raised in this volume with respect to the time-frame references of the New Testament to the Parousia are vitally important not only for eschatology but for the future debate over the credibility of Sacred Scripture."
"I can never read the New Testament again the same way I read it before reading The Parousia. I hope better scholars than I will continue to analyze and evaluate the content of J. Stuart Russell's important work." —Dr. R. C. Sproul, The founder and chairman of Ligonier Ministries
"How many times have you struggled with the interpretation of certain Biblical texts related to the time of Jesus' return because they did not fit with a preconceived system of eschatology? Russell's Parousia takes the Bible seriously when it tells us of the nearness of Christ's return. Those who claim to interpret the Bible literally often trip over the obvious meaning of these time texts by making Scripture mean the opposite of what it unequivocally declares. Reading Russell is a breath of fresh air in a room filled with smoke and mirror hermeneutics." — Gary DeMar, Author of Last Days Madness
Although I do not agree with all the conclusions of J. Stuart Russell's The Parousia, I highly recommend this well-organized, carefully argued, and compellingly written defense of preterism to serious and mature students of the Bible. It is one of the most persuasive and challenging books I have read on the subject of eschatology and has had a great impact on my own thinking. Russell's biblical theological study of New Testament eschatology sets a standard of excellence." — Dr. Kenneth L. Gentry, Jr., Author of Before Jerusalem Fell
"throws so much new light upon obscure portions of the Scriptures, and is accompanied with so much critical research and close reasoning, that it can be injurious to none and may be profitable for all." —Charles H. Spurgeon
In view of Dr. Russell's insightful observations, no serious student of Biblical escatology should attempt to construct a systemeatic scheme of apocalyptic events without first consulting this 19th century work, The Parousia." — Walt Hibbard, Great Christian Books
---
From the Congregational Year Book for 1896.
The text has been lightly edited, and both the orthography and
the punctuation have been conformed to American conventions.
Roman numeral scripture references have been converted to Arabic.
INTRODUCTORY.
THE LAST WORDS OF OLD TESTAMENT PROPHECY.
---

Comments
This comment form is powered by GentleSource Comment Script. It can be included in PHP or HTML files and allows visitors to leave comments on the website.