THE PAROUSIA
Grk/Heb Fonts

PDF

by James Stuart Russell
THE SECOND EPISTLE TO THE CORINTHIANS.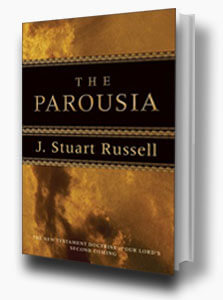 ANTICIPATION OF 'THE END' AND THE DAY OF THE LORD.'
2 Cor. 1:13, 14 —'Even to the end;'...'the day of the Lord Jesus.'
'The end' (ver. 13) does not mean 'to the end of my life,' as Alford says. It is the great consummation which the apostle ever keeps in view, the goal to which they were so rapidly advancing. to telov has a definite and recognised signification in the New Testament, as may be seen by reference to such passages as Matt. 24:6, 14; 1 Cor. 15:24; Heb. 3:16, 6:11, etc.
In ver. 14 we find St. Paul anticipating the coming of the Lord as the time of joyful recompense to the faithful servants of God, and which was so near that, as he had told them in his former epistle, human judgments and censures might well be adjourned till its arrival. (1 Cor. 4:5) When that day came, the apostle and his converts would rejoice in each other. Can it be supposed that he could think of that day as otherwise than very near? Have those mutual rejoicings yet to begin? For if the day of the Lord be still future, so also must be the rejoicing.
THE DEAD IN CHRIST TO BE PRESENTED ALONG WITH THE LIVING AT THE PAROUSIA.
2 Cor. 4:14—'Knowing that he which raised up the Lord Jesus shall raise up us also by Jesus, and shall present us with you.'
We now enter upon a most important statement, which deserves special attention. Perhaps its true meaning has been somewhat obscured by regarding it as a general proposition, instead of something personal to the apostle himself. Conybeare and Howson observe:—
'Great confusion is caused in many passages by not translating, according to his true meaning, in the first person singular; for thus it often happens that what St. Paul spoke of himself individually, appears to us as if it were meant for a general truth; instances of this will repeatedly occur in the Epistle to the Corinthians, especially the Second. We propose, therefore, to change the pronouns we and us in this passage into I and me.'1
We have already seen (1 Thess. 4:15, and 1 Cor. 15:51) that the apostle cherished the hope that he himself would be among those 'who would be alive, and remain unto the coming of the Lord.' In this epistle, however, it would seem as if this hope regarding himself were somewhat shaken. His experience in the interval between the First Epistle and the Second had been such as to lead him to apprehend speedy death. (See 2 Cor. 1:8, etc.) His 'trouble in Asia' had made him despair of life, and he probably felt that he could not calculate on escaping the malignant hostility of his enemies much longer. He had now 'the sentence of death in himself;' he bore about 'in his body the dying of the Lord Jesus,' and felt that he was 'always delivered unto death for Jesus' sake.'
But this anticipation did not diminish the confidence with which he looked forward to the future; for even should he die before the Parousia, he would not on that account lose his part in the triumphs and glories of that day. He was assured that he which raised up the Lord Jesus would raise up him also by Jesus, and would present him along with the living saints who might survive to that period. He would not be absent from the great episunagwgh at the coming of the Lord, (2 Thess. 2:1) but would be 'presented,' along with his friends at Corinth and elsewhere, 'before the presence of his glory.' In fact, the apostle now comforts himself with the same words with which he had comforted the bereaved mourners in Thessalonica. He appears to have relinquished the hope that he would himself live to witness the glorious appearing of the Lord; but not the less was he persuaded that he would suffer no loss by having to die; for, as he had taught the Thessalonians, 'them also which sleep in Jesus God would bring with him;' and the living saints would in that day have no advantage above those who slept. (1 Thess. 4:14, 15)2
EXPECTATION OF FUTURE BLESSEDNESS AT THE PAROUSIA.
2 Cor. 5:1-10—'For we know that if our earthly house of this tabernacle were dissolved, we have a building from God, a house not made with hands, eternal in the heavens. For in this we groan, earnestly desiring to be clothed upon with our house which is from heaven: if so be that being clothed we shall not be found naked. For we that are in this tabernacle do groan, being burdened: not for that we would be unclothed, but clothed upon, that mortality might be swallowed up of life. Now he that hath wrought us for the selfsame thing is God, who also hath given unto us the earnest of the Spirit. Therefore we are always confident, knowing that whilst we are at home in the body, we are absent from the Lord: (for we walk by faith, not by sight:) we are confident, I say, and willing rather to be absent from the body, and to be present with the Lord. Wherefore we labour, that whether present or absent, we may be accepted of him. For we must all appear before the judgment seat of Christ, that every one may receive the things done in his body, according to that he hath done, whether it be good or bad.'
This is the most complete account that we possess of the mysterious transition which the human spirit experiences when it quits its earthly tenement and enters the new organism prepared for its reception in the eternal world. It comes to us vouched by the highest authority, —it is the profession of his faith made by an inspired apostle, —one who could say 'I know.' It is the declaration of that hope which sustained St. Paul, and doubtless also the common faith of the whole Christian church. Nevertheless, the passage ought to be studied from the standpoint of the apostle, as his personal expectation and hope.
Observe the form of the statement—it is rather hypothetical than affirmative: 'If my earthly tabernacle be dissolved,' etc. This is not the way in which a Christian now would speak respecting the prospect of dying; there would be no 'if' in his utterance, for what more certain than death? He would say, 'When this earthly tabernacle shall be taken down;' not, 'if it should be,' etc. But not so the apostle; to him death was a problematical event; he believed that many, perhaps most, of the faithful of his day would never suffer the change of dissolution; would not be unclothed, that is disembodied, but would 'be alive and remain unto the coming of the Lord.' Perhaps at this time he had begun to have misgivings about his own survival; but what then? Even if the earthly tenement of his body were to be dissolved, he knew that there was provided for him a divinely prepared habitation, or vehicle of the soul; an indestructible and celestial mansion, not made with hands; not a material, but a spiritual body. His present residence in the body of flesh and blood he found to be attended with many sorrows and sufferings, under the burden of which he often groaned, and for deliverance from which he longed, earnestly desiring to be endued with the heavenly vesture which was awaiting him above (ver. 2). The Pagan conception of a disembodied spirit, a naked shivering ghost, was foreign to the ideas of St. Paul; his hope and wish were that he might be found 'clothed, and not naked;' 'not to be unclothed, but clothed upon.' Conybeare and Howson have, of all commentators, best caught and expressed the idea of the apostle: 'If indeed I shall be found still clad in my fleshly garment.'3 It was not death, but life, that the apostle anticipated and desired; not to be divested of the body, but invested with a more excellent organism, and endued with a nobler life. There is an unmistakable allusion in his language to the hope which he cherished of escaping the doom of mortality, 'not for that we (I) would be unclothed,' etc., i.e. 'not that I wish to put off the body by dying,' but to merge the mortal in the immortal, 'that mortality might be swallowed up of life.'
The following comment of Dean Alford well conveys the sentiment of this important passage:—
'The feeling expressed in these verses was one most natural to those who, like the apostles, regarded the coming of the Lord as near, and conceived the possibility of their living to behold it. It was no terror of death as to its consequences, but a natural reluctance to undergo the mere act of death as such, when it was written possibility that this mortal body might be superseded by the immortal one, without it.'4
In the succeeding verses the apostle intimates his full confidence that in either alternative, living or dying, all was well. 'To be at home in the body was to be absent from the Lord; to be absent from the body was to be present with the Lord.' In either case, whether present or absent, his great concern was to be accepted by the Lord at last; 'For,' he adds, 'we must all be made manifest before the judgment seat of Christ; that every one may receive the things done in the body, according to that which he hath done, whether it be good or bad' (2 Cor. 5:6-10).
Thus the apostle brings the whole question to a personal and practical issue. All were alike on their way to the judgment seat of Christ, and there they would all meet at last. Some might die before the coming of the Lord, and some might live to witness that event; but there, at the judgment seat, all would be gathered together; and to be accepted and approved there was, after all, a greater matter than living or dying, 'falling asleep in the Lord,' or being 'changed' without passing through the pangs of dissolution. The judgment seat was the goal before them all, and we have seen how near and imminent that solemn appearing was believed to be. That all this heartfelt faith and hope, cherished and taught by the inspired apostles of Christ, was after all a mere fallacy and delusion appears an intolerable supposition, fatal to the credit and authority of apostolic doctrine.
---

Comments
No comments yet.
Add Comment
Powered by Commentics
Footnotes
1. Life and Epistles of St. Paul, ch. xi.
2. 'The whole of this passage (chap. iv. 7 to chap. v. 10) shows that St. Paul was suffering from bodily illness when he wrote.'—Conybeare and Howson, chap. xvii. note.
3. 'Literally, "If indeed I shall be found clad, and not stripped of my clothing;" i.e. "If, at the Lord's coming, I shall be found still living in the flesh." We know from other passages that it was a matter of uncertainty with St. Paul whether he should survive to behold the second coming of Christ er not. (Compare 1 Thess. 4:15, and 1 Cor. 15:51) So, in tim next verse, he expresses his desire that his fleshly body should be transformed into a spiritual body, without being unclad by death.'—Life and Epistles of St. Paul, chap. xvii.
4. Greek Testament in loc.